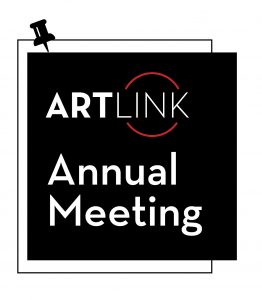 Artlink's Annual meeting was held online on Monday, June 29, 2020. The Artlink board welcomed over 80 attendees, including artists, arts advocates, and representatives of the City of Phoenix, galleries, performing arts, and other arts organizations.
Present Board Members: Rick Naimark (Chair), Sally Russell (Vice Chair), Hillary Foose (Secretary), Brittany Butler, Bentley Calverley, Rembrandt Quiballo, Dorina Bustamante, Liliana Gomez, Tricee Thomas, R.J. Price and Catrina Kahler (President/CEO).
Welcome
The meeting opened with a welcome by Rick Naimark, who introduced an honored guest who is supporting Phoenix's position as a proud Arts City, Phoenix Mayor Kate Gallego.
Mayor Gallego recognized Phoenix City Council's support of the arts community through its recent Coronavirus relief funds. She highlighted the arts role in helping build a better Phoenix during these challenging times, and the more than $400 million in economic benefit the arts industry generates for the city. Mayor Gallego will continue to push Congress for support of the arts and thanked Artlink for its decades of service.
Board Elections
Artlink Board Secretary provided an overview of the election of the 2020-2021 Board of Directors. By unanimous vote, the Artlink board renewed the terms of three directors:
Rick Naimark: ASU, Associate Vice President for Program Development Planning
Rembrandt Quiballo: Visual Artist
Dorina Bustamante: True North Studio, Partnerships
Liliana Gomez: Artist/Choreographer
This rounds out the current roster of the Artlink board:
Sally Russell: Licensing Product Manager, Frank Lloyd Wright Foundation
Hillary Foose: Valley Metro, Communication and Strategic Initiatives Director
Brittany Butler: Artist/Oasis on Grand, marketing director
Tricee Thomas: Fashion Designer/The Garment League Founder
R.J. Price: Downtown Phoenix Inc., Chief Marketing Officer
Catrina Kahler: Artlink President/CEO
The board elected the following officers:
Rick Naimark: Chair
Sally Russell: Vice Chair
Hillary Foose: Secretary
Brittany Butler: Treasurer
On behalf of the board, Rick Naimark announced Bentley Calverley is stepping down from the board, and thanked her for her significant contributions to the organization.
Annual Report
Rick Naimark introduced Artlink President/CEO Catrina Kahler who provided an overview to the organization's year of activity.
Art Detour
COVID-19 unfortunately affected Art Detour 32, typically a highlight of the calendar year, and took steps to move forward and support artists financially affected by the pandemic.
After initially launching an artist relief effort via The Artist Forward Fund (TAFF), Artlink partnered with other organizations to generate additional support to fundraise for artists.
Artlink thanks Arizona Arts Commission, Arizona Community Foundation, City of Phoenix, Arts Foundation for Tucson & Southern Arizona for their partnership in allowing the organization to contribute to an effort that generated more than $175,000 for artists. More support is needed. Please donate here.
Articipants
Artlink's Articipant program continues to grow, with a total of 748 annual registrations, representing a 42% from last year. This includes 700 artists from throughout Arizona, a 53% increase from last year.
Articipants are artists, arts venues, arts organizations and arts supporting businesses that contribute to our community.
Every registered artist is listed in artistaz.com directory, Arizona's largest online artist directory. Artists can register here.
Partner Calls to Artists
Artlink seeks to create partnerships that link up and strengthen the community. In this effort, the organization facilitated and/or promoted calls to artists on behalf of partners, including the following:
Phoenix Art Museum (FOCA and Scult Award grants)
City of Phoenix/Downtown Phoenix Partnership (Giving Meters)
Block 23 (murals)
Renaissance Phoenix Downtown Hotel/DPP (mural)
Miracle Mile on McDowell/PCA (mural)
Arizona Citizens for the Arts (Governor's Arts Awards)
Wexford Science & Technology (wall and ceiling installations)
INFLUX (six Valley cities' public art installations)
Partner Programs
Kimpton Hotel Palomar – ARTLAB artist studio/residency
FOUND:RE Phoenix – FOUND:RE Contemporary art program launched in February
Portland on the Park – In Residence pilot program facilitates the development of a permanent art collection for residential developments
Artlink Events/Initiatives
Artlink Artist Council – The AAC members are artists contributing to Artlink organization community, while creating a connection with emerging artists, as well as administration of TAFF grant for a selected artist exhibition (Diana Calderon)
Art Detour – pivoted to promoting artists and Articipants
Gala – the artists continued with the exhibition while being cognizant of public health concerns. Artists were able to photograph their work and a video was produced to promote and honor the work. See the video here.
Park Central – Artlink's new home, where the interdisciplinary art space, the mood room has become a key component of Park Central's arts & culture plan in partnership with The Garment League. See the mood room here.
Make Music Day – introduced by Articipant Liaison Leslie Criger, MMD is June 21 each year where Artlink serves as Phoenix chapter and featured programming between 7a – 9p, largely working with musicians as part of virtual event and with local partnerships including Valley Metro and Heritage Square
Future calls for Valley Metro Artsline artist program are upcoming—be on the lookout
Financial Report
Large beginning balance ($155,260), as we took in grant and sponsor money for a two-year period, with funds allocated to spend in this year, but limited by COVID. The bulk of this will be carried forward (total $104,751) to this upcoming year (projected ending balance $18,468) .
Partners like Park Central, Valley Metro and others will have artist calls in the coming weeks.
We are planning to hold Art Detour in the this spring. If this is not possible, we will do our best to adjust earlier in the year to avoid any unnecessary spending.
We hope to continue to take in grants and sponsorships with a number of significant artists calls planned for this year.
Q&A
Any plans to bring First Friday back in any form?
Unfortunately, COVID will prevent Artlink's hosting of trolley transportation on First Fridays. The organization is working to promote artists through the directory and their social media pages, and position PUG to support promotions.
When is the next call for Portland on Park?
The current exhibition runs through mid-October. The next call is coming in a couple of months.
Are there plans to add artist spaces at Park Central?
Yes, Artlink is ramping up efforts now with a local architecture firm to develop a new space. Keep an eye out for an upcoming survey.
Would Artlink be interested in a proposal for an art/talk/fashion show next year?
Yes, these cross-pollination of art forms are a focus. No one medium works in a silo, and we all benefit when they connect.
Why do police get more funding (than the arts)?
(Rick Naimark responding to a question posed earlier in the meeting) The city is trying to shift dialogue and funding—you're seeing that. Glad there's focus on this shift; art is something that people understand better than ever in terms of its healing power, promoting justice, etc. Artlink is a part of that dialogue.
Acknowledgements
Artlink thanks its staff, Articipants and volunteers and to you reading this recap and engaging in the arts and culture community. Special thanks to Articipant Liason Leslie Criger and Curatorial Programs Director Grant Vetter.
About Artlink Inc.
Artlink keeps the arts integral to our development by connecting artists, businesses, and the community. Founded as a 501(c)(3) nonprofit organization by artists in 1989, the Artlink name is a guiding principle for the organization as it supports the stakeholders of the arts and culture community, amplifying its collective strength. Visit artlinkphx.org to sign up for the Artlink newsletter or connect socially on Facebook, Twitter, and Instagram.