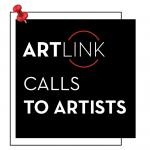 Have Questions About Calls, Art Detour or…?
Let's get those questions answered! Artists are invited to join Artlink staff for an informal meeting on Monday, December 2, to discuss open calls to artists, Art Detour 32 and more. PLUS, you'll see the exhibition space at Park Central where the Juried and Gala events will take place (see calls here).
Date: Monday, December 2, 2019
Time: 6 to 7 p.m.
Location: Artlink HQ @ Park Central, 3121 N. 3rd Ave. Suite 100 (If driving, park on the WEST side of Park Central, near the Sun Worshiper statue. Artlink is located in the Geare Building.)
RSVP Here
---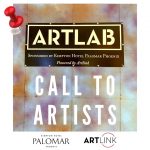 The following call for artists of all practices is presented by Kimpton Hotel Palomar Phoenix with support provided by Artlink Inc. The deadline to submit is Monday, August 7, 2019 by 5:00 p.m. (local Arizona time). This information was updated on July 24 to reflect a new timeline.

BACKGROUND AND OVERVIEW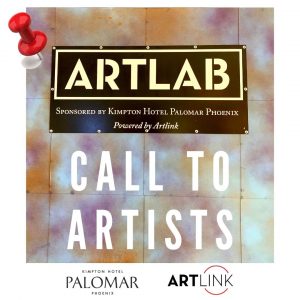 When Kimpton Hotel Palomar Phoenix first opened its doors in 2012, local art was central to the design of the property which has recently has debuted the next evolution of its "Art in Motion" theme with ARTLAB, powered by Artlink.
Located adjacent to the second floor of the hotel's "Living Room" lobby space, the pop-up art studio will be transformed into a different exhibit every few weeks as a new artist in residence uses the space to bring their artwork to life. 
Project: ARTLAB Residency
Address: 2 E. Jefferson St., Phoenix, AZ, 85004.
Request: This open call is meant to select up to four artists for different residency periods that will take place through spring 2020 at the Kimpton Hotel Palomar Phoenix. This high-traffic space is a working studio with great visibility and is located in CityScape in the heart of downtown Phoenix.
Overview: ARTLAB represents a unique opportunity to work in a public art studio prominently positioned in the Kimpton Hotel Palomar Phoenix. Featuring large saloon-style doors fabricated by local artist Doug Boyd of Artfully Rogue, ARTLAB is a working studio space designed with the needs of an artist in mind, including lighting, storage, exhibition space, and a customized moveable platform that serves as a splatter-ready studio floor.
---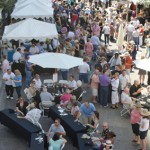 Application Deadline: Sunday, March 23, 2014
Event: Eight's "Check, Please! Arizona" Festival
Length of Show: Sunday, March 30, 2014, 11 am – 3 pm
Location: CityScape, 1 E Washington St, Phoenix, AZ
Artlink Inc. will present the tantalizing work from local artists in a group exhibition at the second annual "Eight's Check, Please! Arizona Festival" at Cityscape in downtown Phoenix.
CityScape will be transformed into an exploration of Arizona's independent restaurant scene, from five-star dining establishments to tucked away cafes.
The theme of the "Feast Your Eyes" exhibition is the five senses (sight, hearing, touch, smell, and most importantly, taste!) that all go into making a spectacular meal.
The display space for the event will be outdoors and open to the public, Artlink board members and volunteers will set up the booth, handle sales, and will monitor the booth during the festival.
Artwork submission guidelines: Artlink will accept 2D work that can be hung on the wall, does not exceed 20lbs. and is no more than 36″w, 48″h, 5″depth. All accepted work must have wire hardware for hanging. In order for artwork to be considered for display all of the above guidelines must be met and artwork must be ready to hang.
APPLICATION to include:
Email submission to info@artlinkphoenix.org of files in .jpg format, limited to three, with each image labeled with the artist's name and title of art. We recommend submitted images to have a resolution of 72 dpi.
Text file that lists:
a.     Your contact info
b.     Artist name as you would like it to appear on labels
c.     Titles of individual submissions
d.     Dimensions (HxWxD)
e.     Media
f.      Sale price or NFS
Please do not send actual works until notified. Artlink reserves the right to reject any work not suitable for display. Please do not call for results. Artists will be notified by email.
Drop-off Directions: If selected, there are two drop off options for Artists:
Artists should be available to drop off their work to Sarah (VP of Artlink Board of Directors) on Saturday, March 29th from 9am to 11am at 3508 N 7th Street #120, Phoenix, AZ 85014 (The Studio). Artwork will be transported by Artlink to Cityscape on Sunday, March 30th.
Artists can drop off their work to Cityscape (1 E Washington St) on Sunday, March 30 from 8am to 9:30am. Artists will be able to pull onto Central Ave off Washington to unload and then park in any of the Cityscape garages.
Further instructions to follow about drop-off and pick-up for those selected.
Artlink Inc. is not liable for any damage or theft that may occur to any person or property. Artists will be asked to sign a waiver and may insure their own artwork, as desired. Artlink Inc. will facilitate and retain 10% of each sale to cover transaction cost. Please email any questions to info@artlinkphoenix.org.
For more information about Check, Please! Arizona Festival, please visit: www.azpbs.org/checkplease/festival/.
---