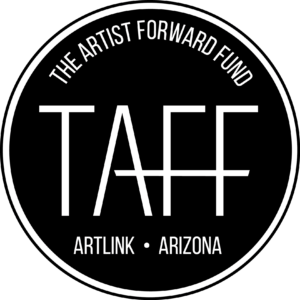 The Artist Forward Fund (TAFF) was launched by Artlink in 2017 in collaboration with the Artlink Artist Council (AAC). The AAC is composed of professional artists who represent Arizona's diverse cultural identity and contribute significant time/energy to Artlink and/or partner initiatives that strive to elevate the profile of Arizona's creative community.
TAFF grant recipients are selected by the AAC members following an open call to Arizona artists.
The artists who are the recipients of this award demonstrate the potential for their art practice to grow through risk-taking and pushing their work in dynamic ways. This award is meant to support those artists who are at a critical juncture in their career when this kind of support could have the greatest impact.
TAFF is a prestigious grant that honors emerging artists in Arizona with special recognition of their talent, select guidance from established artists in their field and greater knowledge about professional practices that will help them gain a wider audience and greater accolades for their work in the future.
About The Artist Forward Fund and the Artlink Artist Council
Formed in February of 2017, the AAC has identified key areas where the Council members can provide support to emerging artists in the following areas: mentoring, exhibition planning, sharing connections/networking support, portfolio review and practical advice on how to move a career Forward as a practicing artist.
The AAC includes Kenaim Al-Shatti, Joan Baron, Laura Spalding Best, Diana Calderon, Ruby Farias, Magda Gluzek, Liliana Gomez, Abbey Messmer, Nicole Lyn Olson, Rembrandt Quiballo, Patricia Sannit, Katharine Leigh Simpson, and Tricee Thomas.