Created in 2013, the Art d'Core Gala has grown from an Art Detour kick-off party to the arts and culture party of the year. Each year in March we invite art lovers, artists, and business leaders to join us in a fresh and exhilarating spin on a traditional fundraising gala. All funds raised go to support the many innovative Artlink programs and services that help connect artists, businesses, and our community.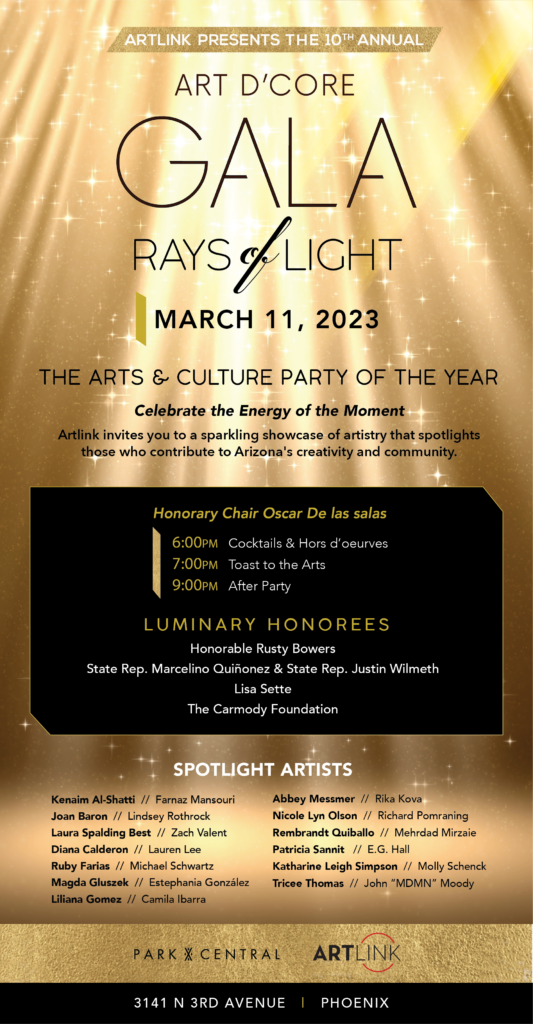 The 2022 gala theme "Forces of Attraction" complemented the core mission of Artlink Inc., which is to draw together those larger forces that make art possible from across the state, including the contributions of artists, donors, businesses, collectors, and advocates.
To host this year's gala, we will once again be utilizing the 80,000 square foot venue at Park Central. In 2022, this space was transformed into an elevated art experience. Over 400 guests immersed themselves in visual, performing, fashion, culinary and musical works to celebrate our thriving arts community's contributions of creativity, beauty, and ingenuity.
Check out the video from the 2022 Art d'Core Gala:
We thank event chair Sharon Harper, our collaborating artists, donors, partners and volunteers for their generous support of the 2022 Art d'Core Gala.
Exhibiting Artists (members of the Artlink Artist Council in bold):
Kenaim Al-Shatti • Mary Neubauer
Joan Baron • Rashaad Thomas
Laura Spalding Best • Estevan Curiel
Diana Calderon • Dara Preciado
Ruby Farias • Laura Madden
Magda Gluszek • Cyd Peroni
Liliana Gomez • David Guerrero
Abbey Messmer • Mary Anne Fernandez Herding
Douglas Miles • Carlos Encinas
Nicole Lyn Olson • May-ling Tang
Rembrandt Quiballo • Kristen Miologos
Patricia Sannit • Shomit Barua
Katharine Leigh Simpson • Brandi Read
Marilyn Szabo • Jose Benevides
Tricee Thomas • Farah Kanaan
ASU School of Art Fashion Program Alumni
Members of The Phoenix Symphony
Culinary Partners: Gadzooks, Handlebar Diner, Hush Public House, The Larder + The Delta, Little Miss BBQ, Peoria Artisan Brewery, Shorty's Charpit, Sonoran Pasta Company, Diageo, Compa Spirits LLC, and Chandon.

Donors: Kathleen & John Graham, The Harper Fund, Hong & Doris Ong, Opatrny Family Foundation
Partners: Park Central, The Phoenix Theatre Company, Goodmans Interior Structures, Sundt Construction, Alliance Bank of Arizona, Arizona State University, Lewis Roca, Salt River Project, Southwest Gas, Wexford Science + Technology, Snell & Wilmer, Butler Design Group, and The Garment League.