The 22nd Annual Artlink Juried Exhibition is open!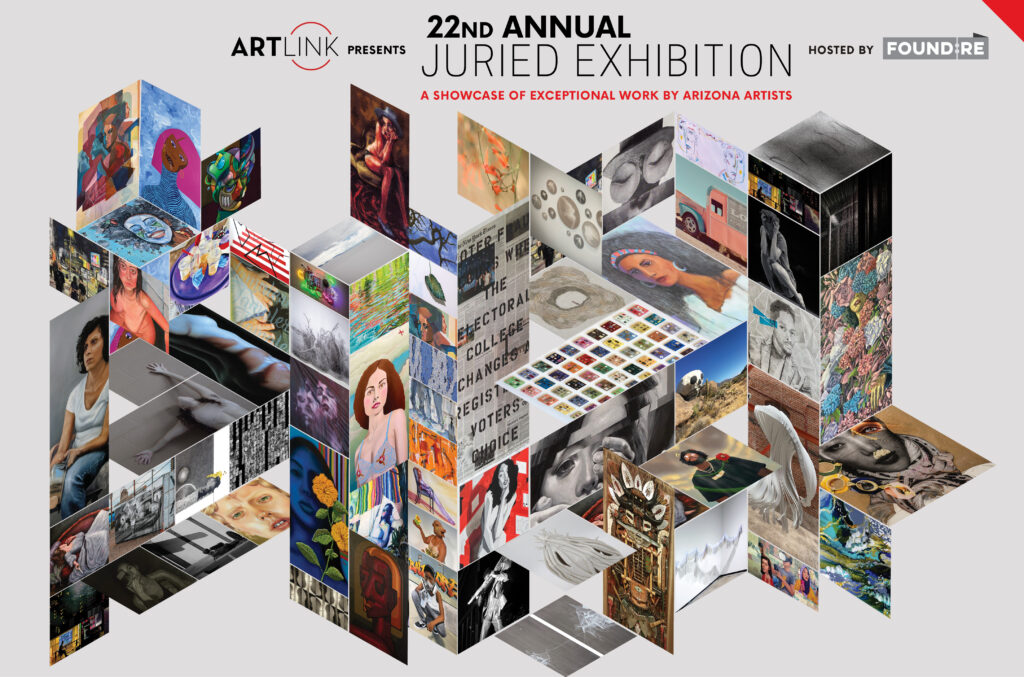 Artlink Inc. is pleased to present exceptional works by Arizona artists in the 22nd Annual Artlink Juried Exhibition. This exhibit has been a premier showcase for emerging and established artists throughout the state, featuring a wide cross-section art being made in Arizona, including painting, photography, sculpture, performance and installations. The event is one of the largest group exhibitions held in Arizona, hosted by FOUND:RE Phoenix Hotel in downtown Phoenix.
Each year three outstanding artists receive cash awards as part of the jury process, which is funded by Artlink. The first place award winner received $5,000, second place $1,500, and third place $750.
Winners were announced at the opening reception of the exhibition on Thursday, November 3, at FOUND:RE Phoenix Hotel in downtown Phoenix.
Read about the three award winners here.
The following panel of prestigious jurors from the Arizona arts community selected 66 inspired works from nearly 1000 pieces that were submitted for consideration:
Liz Cohen, Visual Artist
Nicole Olson, Performing Artist and Dance Creator
Hermann Plank, President, TecnoKal and Chief Innovation Officer, METAXFASHION Inc.
Gilbert Vicario, Phoenix Art Museum Curator of Modern and Contemporary Art
Eunique Yazzie, Cahokia Co-Founder Designer/Artist/Creative Cultural Advocate
Congratulations to the selected artists: Samantha Aasen, Angela Adams, Ahchipaptunhe, Steven Allison, Sam Arrow, Alison Auditore, Matt Baral, Shomit Barua, Lori Bauman, Janna Blackburn, Lee Brown, Cherie Buck-Hutchinson, Edwin Canfield / Cactus Breath, Donna Ceraulo, Craig Cheply, Ben Childs, Dawn Conry, Estevan Curiel, Custom Fresh Dame, Ashley Czajkowski, Cindy Dach, Swapna Das, Heidi Dauphin, Jimmy Descant, Bronwyn Dierssen, Talia Dudley, Tal Dvir, Sasha Escareno, Jerome Fleming, Francisco Enuf Garcia, Gemini Adrift, Magda Gluszek, Matthew Goodall, Jo Ho, Christopher Jagmin, Farnaz Mansouri, Daniel Mariotti, Stacy Marko, Nancy Miiller, Rosario Miranda, Allison Moyers, Jamilla Naji, Ellen Nemetz, Anh-Thuy Nguyen, Noelle the Dreamer, Dino Paul, Elizabeth Pineda, Mina Pjetrov, Daniel Prendergast, Andrea Pro, Adrian Ramirez, Grace Rhyne, Lindsey Rothrock, James Sanders, Kaitlyn Jo Smith, Bradley Smith, Grecia Solorio, Marilyn Szabo, Sunshine Tourtillott, Aaron Tsosie, Unheard Harmony, Megan Vanbuskirk, Chris Vena, Halley Willcox, and Rae Wilson.
Thanks to our partner FOUND:RE Phoenix Hotel, the show will run through February 2023 and be open to the public daily.