Go To The FOUND:RE Hotel to see The 23rd Annual Artlink Juried Exhibition!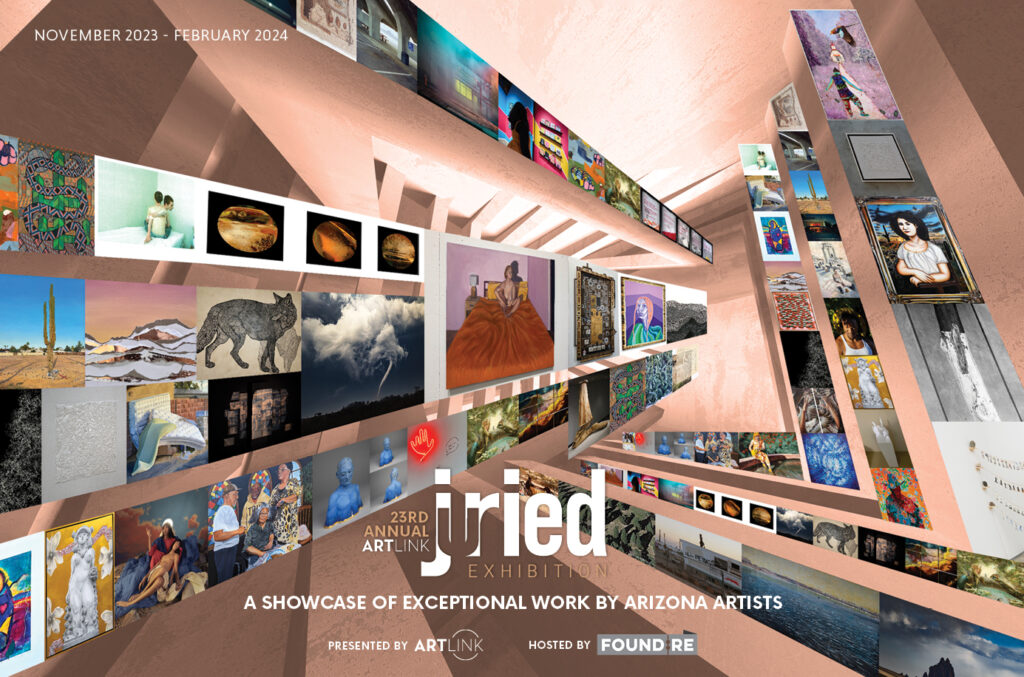 Enjoy the 2023 digital program on FlipHTML5 here.
Artlink Inc. is pleased to present exceptional works by Arizona artists in the 23rd Annual Artlink Juried Exhibition. This exhibit has been a premier showcase for emerging and established artists throughout the state, featuring a wide cross-section art being made in Arizona, including painting, photography, sculpture, performance and installations. The event is one of the largest group exhibitions held in Arizona, hosted by FOUND:RE Phoenix Hotel in downtown Phoenix.
Congratulations to the selected artists:
Susan Allred, James Adele Baxter, Bob Booker, Kent Corbin, Carlos Encinas, Lando Acosta, Joseph Farbrook, Edgar 8ahau Fernandez, Will Fields, Andrew G Finch, Jill Friedberg, Daniel Friedman, Patrick Giblin, Regan Henley, K.J. Herb, Travis Ivey, Dino Jagger III, Adriene Jenik, Debra Kay, Yunie LeNoue, Kris Manzanares, Rowan Mastandrea, Cynthia Miller, Mehrdad Mirzaie, Ollie Museum, Daniella Napolitano, Anh-Thuy Nguyen, Tom Ortega, Tori Jane Ostberg, Cyd Peroni, Mark Peterman, Kelsey Phillips, Nicole Poppell, Christina Ramirez, Joe Ray, Gracie Rhyne, Safwat Saleem, Anne Sipos, Sophie Smith, Omar Soto, Mila Strugatsky, Chelsie Tamala, Dean K Terasaki, Carlos Valcarcel, Chris Vena, Shoreigh Williams, Rae Wilson, Kristy Winterbourne and Hyewon Yoon.
Each year three outstanding artists receive cash awards as part of the jury process, which is funded by Artlink. The first place award winner received $5,000, second place $1,500, and third place $750.
Winners were announced at the opening reception of the exhibition on Thursday, November 2, at FOUND:RE Phoenix Hotel in downtown Phoenix.
Honorable Mentions:
Lando Acosta
Shoreigh Williams
Adriene Jenik
Regan Henley
Anh Thuy Nguyen
Mehrdad Mirzaie
James Baxter
Third Place: Travis Ivey for "In Memoriam"
Second Place: Safwat Saleem for "The Self-Help Library"
First Place: Omar Soto for "The Lamentation of Christ/Pieta"
As always, the jurors had a tough job in making this selection from the group of phenomenal artists who submitted their work for consideration. Thank you again to our jurors who invested a significant amount of their personal time to curate this exceptional exhibition:
CeCe Cole – artist and curator
Julio Morales – artist, curator, and the Executive Director of MOCA Tucson
Christian Ramirez – Assistant Curator of Contemporary and Community Art Initiatives for Phoenix Art Museum  
Thanks to our partner FOUND:RE Phoenix Hotel, the show will run November 2, 2023 through February 2024 and be open to the public daily.
Check out all the Artists in the 2023 digital program on FlipHTML5 here.