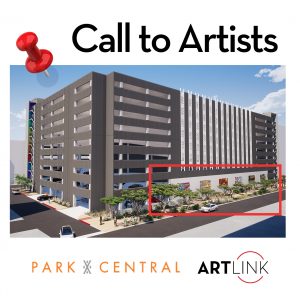 The following call for artists of all practices is presented by Plaza Companies, Holualoa Companies, Dignity Health, and Park Central Community Facilities District ("Owners") with support provided by Artlink Inc. The deadline to submit is August 11, 2020 by 5:00 p.m. (local Arizona time).
BACKGROUND AND OVERVIEW
Owners are interested in working with an artist or artist team to creatively address an exterior wall located on the south side of the new Park Central Garage located on Catalina St.
Project: Park Central Catalina Garage Murals RFQ
Address: 150 W. Cataline St., Phoenix, AZ 85013
Budget: $31,500
Overview: Park Central combines its rich mid-century-modern history with a new focus on technology, innovation and design, that includes all of the most sought-after features in today's office and retail market. With a nod toward its past and an eye toward the future, The recently renovated Park Central once again, puts its visitors and employees within close proximity of some of Phoenix's hottest neighborhoods along with all the benefits of being at the heart of Midtown Phoenix.
The Catalina Garage is a 10-story parking structure with a capacity of approximately 2,000 parking spaces. The Garage site is approximately 1.9 acres and will be used by paid public parking customers and also by users, residents or customers of Park Central and other nearby destinations including Creighton University, Dignity Health, Millennium Apartments (to be completed in 2021), and more.
The six murals can be made in any genre including being wholly abstract, figurative, landscape-based, or any combination thereof, but should complement the design of the building, embrace a sense of community and be comprised of bold, bright and uplifting imagery. Incorporating inspiration from the site, from the history of the place, and a dynamic sense of space, color and composition are all greatly encouraged. With the completion of the Park Central remodel, and the many new tenants and businesses in the area, the mural will be a part of making Park Central come alive again, and be welcoming to visitors, patrons, families, and residents living in midtown Phoenix.
Eligibility: This opportunity is open to designers and artists living and working in the state of Arizona with the ability to produce exemplary art.
Artists must be registered as an Artlink Articipant. Find the registration form on here.