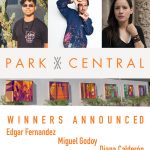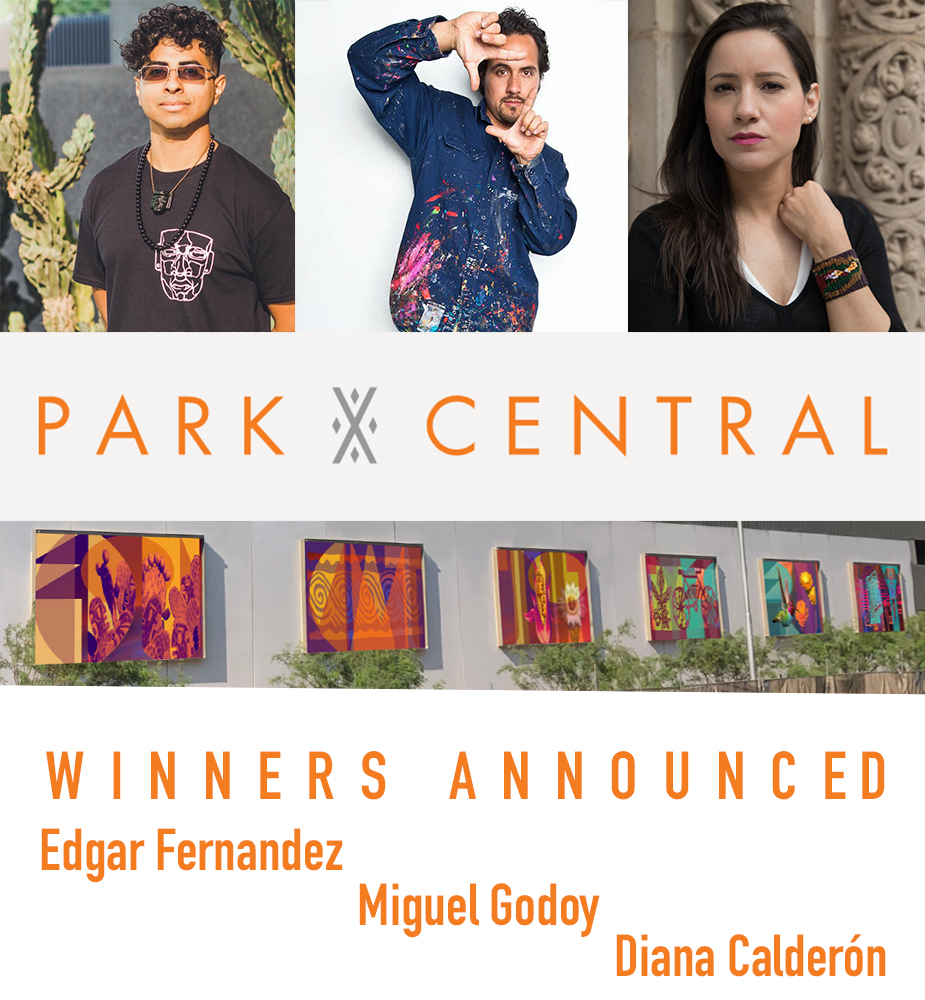 Arizona's tallest precast parking structure will bring more than 2,000 new parking spaces to midtown Phoenix to support the Park Central revitalization.
But the new $38 million Catalina Parking Garage is going to be a lot more than that.
The project's development team has selected an artist team consisting of Diana Calderón, Edgar Fernandez and Miguel Godoy to create a massive new set of murals on the south side of the garage. Titled "The New Archive," the new murals will decorate six 21-foot by 10-foot panels, a more than 1,260-square-foot surface which will become one of the largest public art installations in Arizona. Forty-six artists responded to the Call for Artists sent out over the summer by Artlink, Park Central's partner 501(c)(3) organization serving the arts.
The new murals are designed to fit a vision to celebrate the history of Arizona, the heart of the community and neighborhood, the mid-century-modern architecture and the mix of healthcare, education, technology, and businesses in the area. Embedded in the mural are four key words that speak to the core values of both the project and the community — Community, Education, Health, Equity.
Sharon Harper, Chairman and CEO of Plaza Companies, said the new murals will add to the project's commitment to be a hub for the arts in the community
"Park Central's vision includes a significant focus on the arts, and these new murals will be a tremendous new addition to the project," she said. "It will serve as a point of pride for the community and we are looking forward to seeing the impact the completed artwork will have for visitors to Park Central. These murals will celebrate what make Phoenix and Arizona such an incredible place to live."
The new 10-story, 551,750-square-foot garage was constructed on the south side of Park Central to accommodate the growing use of the property as a central Phoenix mixed-use destination. Along with Plaza, Holualoa Companies and Artlink, Dignity Health and the City of Phoenix also participated in the mural process.
Stan Shafer, Chief Operating Officer for Holualoa Companies, said the new artwork will enhance the project's overall look and feel.
"Park Central has an exceptional mid-century-modern core that is being complemented nicely by the new construction taking place on site and the focus we have had on public art," he said. "We are committed to making this project an exceptional example of how public art and quality architecture can create a unique urban feel."
Plaza Companies and Holualoa Companies are teaming up to redevelop Park Central, which once held court as the city's first official large-scale shopping mall. The companies are transitioning the project to a bustling community hub ideal for playing, working, congregating and celebrating the arts. Leasing activity for office and retail space is ongoing at the property and interest has been strong in the newly revitalized property.
The new Park Central includes 450,000 square feet of Class A creative office space available for lease with the ability to accommodate tenants ranging from 3,500 square feet to more than 100,000 square feet in size. It features exclusive tenant patios, on-site restaurants and amenities, a stunning mid-century modern design, 15-25 foot ceilings, extensive bike paths and light rail access and ample parking.
For office leasing, tenants and brokers can reach out to Andrew Cheney with Lee & Associates (502.954.3769) or Bill Cook with Plaza Companies (623.344.4526). For Retail leasing contacts are Brent Mallonee with Cushman and Wakefield (602.224.4437) or Margaret Lloyd with Plaza Companies (623.344.4558).
For more information on the project, visit www.parkcentralphoenix.com.
---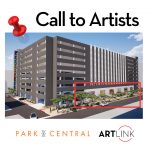 The following call for artists of all practices is presented by Plaza Companies, Holualoa Companies, Dignity Health, and Park Central Community Facilities District ("Owners") with support provided by Artlink Inc. The deadline to submit is August 11, 2020 by 5:00 p.m. (local Arizona time).
BACKGROUND AND OVERVIEW
Owners are interested in working with an artist or artist team to creatively address an exterior wall located on the south side of the new Park Central Garage located on Catalina St.
Project: Park Central Catalina Garage Murals RFQ
Address: 150 W. Cataline St., Phoenix, AZ 85013
Budget: $31,500
Overview: Park Central combines its rich mid-century-modern history with a new focus on technology, innovation and design, that includes all of the most sought-after features in today's office and retail market. With a nod toward its past and an eye toward the future, The recently renovated Park Central once again, puts its visitors and employees within close proximity of some of Phoenix's hottest neighborhoods along with all the benefits of being at the heart of Midtown Phoenix.
The Catalina Garage is a 10-story parking structure with a capacity of approximately 2,000 parking spaces. The Garage site is approximately 1.9 acres and will be used by paid public parking customers and also by users, residents or customers of Park Central and other nearby destinations including Creighton University, Dignity Health, Millennium Apartments (to be completed in 2021), and more.
The six murals can be made in any genre including being wholly abstract, figurative, landscape-based, or any combination thereof, but should complement the design of the building, embrace a sense of community and be comprised of bold, bright and uplifting imagery. Incorporating inspiration from the site, from the history of the place, and a dynamic sense of space, color and composition are all greatly encouraged. With the completion of the Park Central remodel, and the many new tenants and businesses in the area, the mural will be a part of making Park Central come alive again, and be welcoming to visitors, patrons, families, and residents living in midtown Phoenix.
Eligibility: This opportunity is open to designers and artists living and working in the state of Arizona with the ability to produce exemplary art.
Artists must be registered as an Artlink Articipant. Find the registration form on here.

---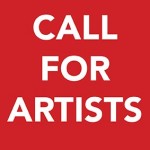 New Downtown Phoenix Restaurant Seeks to Bring the Outdoor Experience IN, Complete with Bold, Colorful Mural
Submission Deadline: Sept 16, 2016
Artlink Inc. invites local artists specializing in murals to submit samples of previously commissioned work to be considered for a new restaurant project in Phoenix.
A commission will be awarded to an individual or team, to complete a 27' wide x 7.2' high wall within The Park, opening at 2nd Street and Jefferson in downtown Phoenix. The deadline to submit is Sept 16, 2016.
Selected artist(s) will begin work immediately for a targeted completion date of early October 2016.
SUBMISSION DETAILS
A variety of contemporary street art styles are welcome for submission: abstract, cityscapes, figurative, nature: flora and fauna. The clients are looking for something that is bold and colorful.
Individuals and teams (no more than four (4) artists) are invited to apply to this call.
For more information on the restaurant concept, visit their Facebook page.
"The dining area will be designed to look like a park. Two massive trees will replace columns and leaves will be abundant, creating the illusion that foliage is growing into the ceiling, said co-founder Phil Richard. Picnic tables, yard games, a stage and outdoor-themed decor will create a 'backyard cool atmosphere, with air conditioning,' he added."
Read the story on AZCentral.com.
The online submission deadline is Sept 16, by midnight.
Artists must be residents of Arizona.
Details:
Submit three images (three individual work samples).

JPGS, up to 250 dpi, no longer than 10 inches on longest side.
Include:

Title,
dimensions,
materials used,
locations of murals
year completed

If a team: please indicate in notes and identify yourselves as a team. If a team, the mural must be a cohesive design/image.
Current resume(s) and primary contact information
Your rate (please indicate flat/hourly, materials, etc) Payment will vary depending on number of artists working on the wall so if submitting as a team, please calculate as a team. Again the price should include costs for art supplies, time, etc.
A short letter of interest outlining:

Preliminary mural proposal/sketches based on the square footage and mural space
Past experience and your reasons for interest in this project
Your willingness to work on the project based on an agreed upon short timeline.
Any other awesome ideas you have for collaboration and the project.
TIMELINE
Application deadline September 16, 2016.
Mural to be completed prior to Early October.
SUBMISSION FEES
How to enter via Submittable.com:
Artlink Articipants may enter free of charge. Articipants click here to submit.
Artists who aren't registered as Articipants will pay a submission fee. Non-Articipants click here to submit.
Why sign up to be an Artlink Articipant? With your fee, all submissions are FREE. We have a minimum of two calls for artists in the coming weeks. Pay the one-time $30 fee today, and you won't have to pay each submission fee separately (there is a $30 for each submission). Don't wait! Click here and sign up today.
Email with any questions to submissions@artlinkphoenix.org Please reference "Direct Purchase" in your email subject line when submitting questions.
FAQ
Why is there a fee to submit?
The fees helps to support the administration of all Artlink efforts in supporting local artists. This includes a variety of year-round opportunities to promote, exhibit and sell your work. And as we grow, we will continue to look for more opportunities.
How can the fee be waived?
There is NO FEE for artists who have signed up to be an Artlink Articipant. If you are not yet signed up as an Articipant, click here to sign up now. The current prorated Articipant fee is $30. As an Articipant, your submission fees will be waived for all calla through January 31, 2017, so there is a benefit to signing up now.
Does the application fee go to The Park or to Artlink?
All non-Articipant application fees go to Artlink. The Park does not receive any payment. Their interest is in supporting the local art scene by purchasing art through this call to artists.
Can I submit to multiple calls promoted by Artlink?
Yes. Once you've set up your artist profile on Submittable.com, you can easily submit for this and future calls.
Can I submit the same art to multiple calls?
You can, but we encourage you to submit a variety of works and to pay close attention to deadlines, purchase dates, etc. so that the submitted works remain eligible for selection.
What style of work is The Park looking for?
A variety of contemporary street art styles are welcome for submission: abstract, cityscapes, figurative, nature: flora and fauna. The clients are looking for something that is bold and colorful.
How do I decide what works to submit?
We suggest you submit three of your best works which reflect your interests as an artist. Think of this as a small portfolio submission to let the viewers know what your style is.
If an Articipant is a group, are all members of the group allowed to submit free of charge?
No. If members want to submit one piece as a group they could, but individual artists – who benefit from the exposure and the potential sale of/prize for an individual piece – need to pay a separate submission fee.
Will sales tax be included in the purchase?
The commission transaction will be handled directly between The Park and Artist. Sales tax should be addressed between the two parties. Artlink will not be included in the purchase/exchange process.
Will a commission be taken by any party?
No commission will be taken by Artlink. This is a direct purchase between The Park and Artist.
---