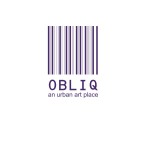 GALLERY HOSTS ANNIVERSARY PREVIEW EVENT WITH SPECIAL GUEST, FRED TIEKEN
Phoenix Obliq Art Gallery Hosts First Friday's Event for the 25th Anniversary of Art Detour
Downtown Phoenix's Obliq Art gallery will honor the upcoming Artlink Phoenix's 25th Anniversary of Art Detour with a special gallery showing of acclaimed contemporary artist Fred Tieken. Tieken, along with the paintings of Richard and Michele Bledsoe, will be at the Arizona Center art gallery from 6 p.m. – 10 p.m. on Friday, February 1, 2013.
Tieken's original painting titled, "The Artist," has been chosen as the official visual of Art Detour 25 (see it here!), and will be on display at Obliq Art during the February 1 event. This special First Friday showing of Tieken's award-winning works will offer a preview to the upcoming 25th Annual Art Detour on March 2-3, 2013. Husband and wife artists Richard and Michele Bledsoe, along with the music of Kimberly Steele will also take part in the celebratory evening of local art.
Larry Ortega, owner of Obliq Art at the Arizona Center, whom also serves as the center's commercial real estate broker said, "We are delighted to have Fred Tieken show at our downtown Phoenix gallery. Obliq is honored to serve the local community with outstanding art and artists such as Tieken and the
Bledsoes."
Committed to the downtown community, Arizona Center is actively catering to the local business and art scene with unique shops and venues such as the gallery. Obliq, the contemporary urban "pop up" gallery space, promotes Arizona and Phoenix artists and connects local art with the emerging art scene of
downtown. With Tieken's works and "Changing Lanes," the art of husband and wife team Richard and Michele Bledsoe, the event showing at the Arizona Center for February's First Friday offers a unique opportunity to Valley art lovers to meet the artists personally during their exhibit event.
The historic 25-year Art Detour celebration will look back at the history of the art scene in downtown. The celebration will kick off with an opening Silver Gala on Saturday, February 23 at the A.E. England Building in Downtown's Civic Space Park. The Art Detour weekend (March 2-3) will feature a broad array of open studios and galleries, Kids' Detour activities, and free trolleys.
Fred Tieken and "Changing Lanes" by Richard and Michele Bledsoe are free and open to the public on February 1, 2013 from 6 p.m. to 10 p.m. at Obliq Art in Arizona Center, 455 N. Third Street, Phoenix, AZ 85004.
More About Arizona Center:
Arizona Center is owned by CommonWealth REIT, a real estate investment trust, or REIT, which primarily owns office and industrial properties located throughout the United States. The property is managed by Reit Management & Research LLC, Real Estate Services. For more information about Arizona Center, visit www.arizonacenter.com. For leasing inquiries, contact Larry Ortega at 602-222-5019.
About Fred Tieken:
Before he first put brush to canvas, Fred Tieken had enjoyed successful careers as both a musician and graphic designer.
For more than 30 years, he was principal designer and creative director of his internationally recognized graphic design firm. During that time he received over 200 design awards and, in 1999, he was named one of the top 50 art directors in the world by Art Direction magazine. Prior to his career in design, Fred
was a prolific musician and producer, releasing numerous albums and singles that are still in demand by collectors. His music has been featured on compilation albums, both in the United States and Europe.
Fred's abstract contemporary and figurative paintings have received critical acclaim and enthusiastic coverage from the media. His paintings come from the heart and tell the story of his life experience.
Fred created his first public work of art in March 2012, when he was commissioned to create the art for a 126-foot-long mural located two blocks west of Phoenix Art Museum at Third Avenue and McDowell Road in Phoenix, Arizona. Since 2010, Fred's paintings have been featured in more than twenty juried
exhibitions and one-man shows in Arizona and California. For more information about Fred Tieken, visit www.freddietieken.com.
About Richard Bledsoe:
A painter of parables and fables, Richard Bledsoe's original art pursues a spiritual energy represented as patterns, animals or figures of power. Images presented as flashes or inspiration, complete a visualization for each of the artist's work.
About Michele Bledsoe:
As a self-taught artist, Michele Bledsoe illustrates her own private symbolism cultivated in isolation, allowing her to spontaneously develop her own vision. Bledsoe's work is the result of a lifetime love of creating pictures, and intimately works every inch of the canvas with small, exact strokes, layering colors
and incorporating texture, wood grain, crumbling stone, twisting ribbon and curling leaves.
For more information and the works of Richard and Michele Bledsoe, visit www.remodernamerica.com.
---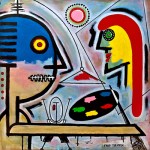 Winning Art Submission by Fred Tieken Captures Spirit of Silver Anniversary Event
PHOENIX (January 10, 2013) – Art Detour, the event that launched downtown Phoenix's First Fridays Art Walk phenomenon, returns for its Silver Anniversary on March 2 and 3, 2013, and will celebrate those who have made the past 25 years possible: the local artists.
Art Detour 25, organized by Artlink Inc., a 501(c)(3) nonprofit, will take a historical look at the artists who contributed to its success over the years, as well as the galleries, organizations and businesses who embrace and promote downtown Phoenix artists and their work today.
A Showcase for the Local "Artist"
Looking for an image to represent this historic event, Artlink issued a call for artists last Fall, and selected an image submitted by Fred Tieken entitled "The Artist." The contemporary painting captures the spirit of the 25th Anniversary of this historical event, spotlighting the individual artists who have made the downtown arts community come alive.
"Gail and I have always been fans of the vibrant art scene in downtown Phoenix and have attended many First Fridays and Art Detours over the years," said Tieken, a Phoenix resident since 1986. "It's funny how life takes you places. A few years ago, I would never have dreamed that I would be exhibiting my art in downtown Phoenix, let alone providing the art for the 25th anniversary of Art Detour. I am so excited to be involved in the event once again."
Tieken's support of Art Detour stretches back to the early days. As a professional graphic designer, he created the collateral materials for the 1990 Art Detour, which incorporated one of long-time Phoenix artist Michael Marlowe's scratchboard illustrations. After selling his graphic design business, Tieken made the transition to fine art in 2010. For Art Detour in 2012, Tieken was commissioned by Dan Vermillion to create artwork for a 126'-long mural for the side of his building on 3rd Avenue and McDowell.
"The Silver Anniversary of Art Detour celebrates the very foundation of the downtown arts scene – the individual artists," said Mike Oleskow, President of Artlink's volunteer board of directors. "What better way to tell that story, to underscore the significance of the local artist community, than in a work of art?"
Art Detour Chair Nancy Hill agreed, "We couldn't be more proud to display Fred Tieken's exquisite work on this year's poster and other promotional materials. His 'Artist' will literally be the face of Art Detour 25."

A Weekend Arts Festival
Art Detour will coincide with March First Friday, resulting in a weekend chock-full of arts related tours, exhibits and activities. "Detour-ists" will be invited to visit galleries and artist studios, learn about public art and murals from artist and knowledgeable docents, and much more.
A shuttle will circulate throughout downtown, making stops at neighborhood "hubs" in Roosevelt Row, Grand Avenue and more, where music and performance art will provide a unique opportunity to explore Phoenix's art scene in a fun, festival environment.
Schedule of Events:
2/23 – Silver Gala. Fun, formal affair to toast the arts community and kick off the 25th Anniversary in style.
3/1 – Pre-Detour First Friday. March First Friday is typically one of the most popular of the year.
3/2-3 – Self-guided tours. A map and shuttles will guide visitors to the open art stops.
3/2 – Walking Public Art Tours. Knowledgeable docents will guide visitors to points of interest.
3/3 – Guided Studio Tours. An intimate look at working studio spaces.
The weekend event is free and offers programming appropriate for all ages, including the family-friendly "Kids' Detour" presented by Phoenix Center for the Arts, which will also serve as Art Detour's First Stop, offering free parking.
Artists are also invited to participate in the second annual "Public Hanging," the cleverly named juried exhibition featuring visual artists from across the Valley.
To participate, sponsor or volunteer please visit artlinkphoenix.org or email Art Detour Chair Nancy Hill at nancy@artlinkphoenix.org.
Artlink Inc. is supported by: Phoenix Art Museum, Dunn Transportation, Snell & Wilmer, Arizona Commission on the Arts, Downtown Voices Coalition, Grand Avenue Merchants Association, Roosevelt Row CDC, Phoenix Center for the Arts, Urban Affair and Invexi Web Development.
About Art Detour Art Detour is an annual free, two-day, arts festival and self-guided tour of artist studios, art spaces, galleries and other art venues in downtown Phoenix organized by Artlink, Inc. in cooperation with the participating venues. Art Detour draws thousands of enthusiastic arts supporters each year providing a unique cultural experience for people new and not so new to the downtown Phoenix Arts Community. The launch of Art Detour preceded and brought about the creation of the now-famous First Fridays Art Walk.
About Artlink Artlink, Inc. is a 501(c)(3) nonprofit organization dedicated to linking artists, business and the public to better understand, appreciate and support a thriving arts community in downtown Phoenix. Artlink supports a variety of community-based art events happening throughout the year and also operates the A.E. England Gallery, which is committed to showcasing the talents of new and emerging local artists. Ongoing community projects include, support of the First Fridays Art Walk, the country's largest self-guided gallery tour; Third Fridays Gallery Tour; an annual Juried Exhibition; and the annual Art Detour self-guided tour, featuring open studios, pop-up galleries, family-friendly art experiences and more. For more information, visit artlinkphoenix.org.
###
---