The following call is for an artist or designer and is presented by Espiritu Loci Incorporated ("Ownership Team") with support provided by Artlink Inc. The Ownership Team is interested in working with an artist or artist team to design a sign that states "Welcome to Roosevelt Row" which will be located on the corner of 7th and Roosevelt Streets in downtown Phoenix. The deadline to submit is Tuesday, August 3, 2021 by 5:00 p.m. (local Arizona time).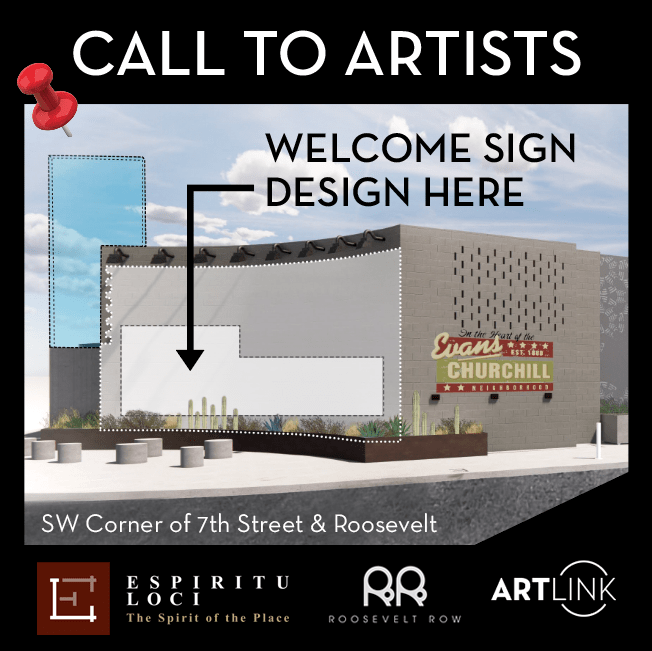 Project: "Welcome to Roosevelt Row" sign design
Address: 950 N. 7th Street, Phoenix AZ 85004
Request: This Request for Qualifications (RFQ) is for an artist or designer to create the design for a "Welcome to Roosevelt Row" sign that will measure approximately 33 feet wide by 4′ 10″ tall with accents up to 8′ 2″ tall. This sign will be positioned in front of, and incorporated into, a prominent mural on the southwest corner of 7th and Roosevelt Streets. All Arizona artists, designers, creative individuals and teams are encouraged to apply.
Budget: A design fee of $5,000
BACKGROUND
Downtown Phoenix has undergone a great deal of growth over the past few decades and is expected to see even more expansion in the years ahead. Arizona Public Service (APS) is planning to power the continued growth of the downtown area and recently completed an extensive community engagement process that occurred over a two year period focused on selecting and designing a one-acre property for a new substation in the downtown area. APS engaged Arizona Strategies and Espiritu Loci Incorporated (ELI) to design the engagement experience with a site selection process. APS staff were active members of the team along with Arizona Strategies and ELI.Based on resident feedback, the property located at 950 N. 7th Street was identified as the ideal site. Working in partnership with the community, a commitment has been made to create art and design elements what will wrap around the exterior of the substation which spans a full city block. This effort will not only create an integrated development project that minimizes the visual impact of the proposed utility elements, but it also aims to present a dynamic art installation of engaging, eclectic, colorful, vibrant and rogue elements on a prominent and welcoming corner of Roosevelt Row Arts District in the Evans Churchill Neighborhood.
OVERVIEW
Project Description: This is an RFQ for the "Welcome to Roosevelt Row" sign which will be an important part of celebrating this nationally renowned arts district and all it has to offer, including music, dance, painting, performance and more.The artist/designer selected from this call will create a dynamic new design for a sign that will be installed on the new Substation that is prominently located at the entrance of one of the most vibrant neighborhoods in the metro Phoenix area.