The following call for artists of all practices is presented by FOUND:RE Phoenix Hotel and the FOUND:RE Contemporary art program ("FC"), with support provided by Artlink Inc., for a new exhibition cycle entitled "Focal Points: Minimal vs Maximal." The deadline to submit is Monday, October 25, 2021 by 5:00 p.m. (local Arizona time).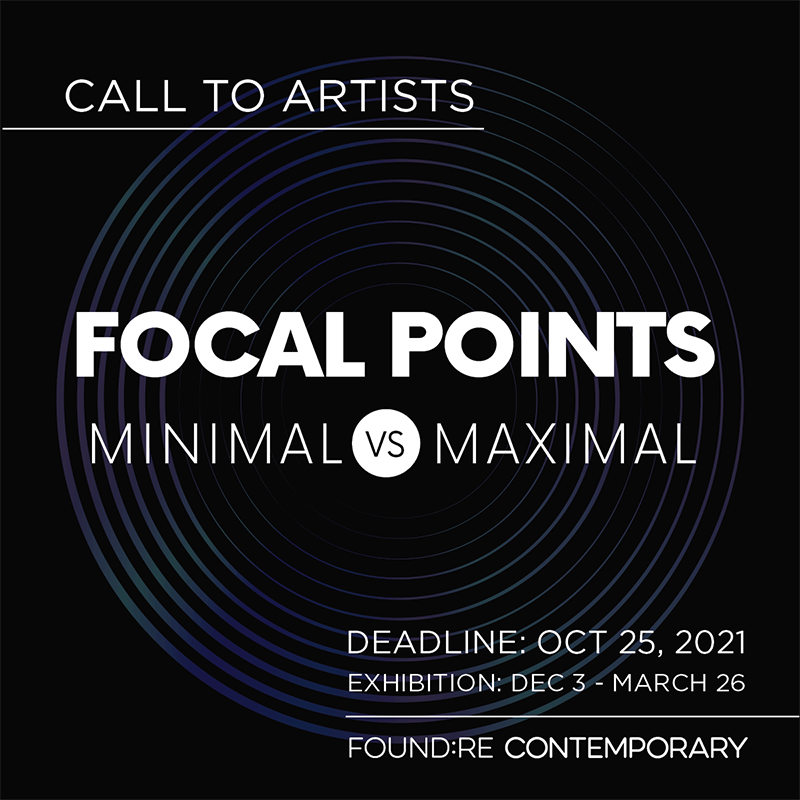 PROJECT
Exhibition: Focal Points: Minimal vs Maximal
Address: FOUND:RE Phoenix Hotel at 1100 N Central Ave, Phoenix, AZ 85004
Request: For art in every medium that implements dynamic and engaging forms of Minimalism or Maximalism.
OVERVIEW
FOUND:RE Phoenix Hotel regularly presents exhibitions based on a 360-degree view of arts and culture that includes all of the traditional mediums of art such as painting, drawing, sculpture, photography, fiber art, printmaking, etc., as well as video art, film, fashion, performance, music and much more!
As part of this next four-month cycle of exhibition programming, FOUND:RE Contemporary is inviting artists to submit works to be included in the hotel-wide exhibition "Focal Points: Minimal vs Maximal." This survey of talent from across the state of Arizona is meant to showcase imagery that embodies the art movement of Maximalism or Minimalism.
A limited number of artists will also be awarded a solo exhibition, a two-person exhibition or a three-person exhibition in the free-standing FOUND:RE Contemporary gallery on Portland Street. All of the works selected for exhibitions are for sale and will be represented on the gallery website for purchase by hotel patrons and art collectors from across the nation.
For "Focal Points: Minimal vs Maximal" FOUND:RE Phoenix Hotel will use the entire property to showcase the works that are selected for this exhibition. This diverse survey embraces the strengths of both art movements and is intended to illustrate how we build up and break down the world around us, challenging the way we see and changing our perspective.
Art Tours of "Focal Points: Minimal vs Maximal" will be scheduled throughout the course of the exhibition, with online reservations available through foundrecontemporary.com.
Additionally, each participating artist in "Focal Points: Minimal vs Maximal" will have the chance to win a staycation at the FOUND:RE Phoenix Hotel.