Exhibition Expands to Four Months and Waives Submissions Fees for Artists as part of the ongoing response to COVID-19 restrictions
Arizona Artists of all mediums are invited to submit to the open call by December 30, 2020
First prize is $5,000; Second prize is $1,500; Third prize is $750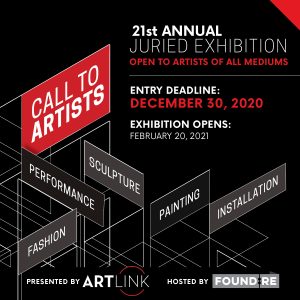 Artlink is pleased to announce the return of one of the Valley's most eagerly anticipated art events of the year at a new venue. The 21st Annual Artlink Juried Exhibition will be hosted by FOUND:RE Phoenix Hotel and will be expanded to a four-month run to allow for greater artist participation as well as safe visitation in line with COVID-19 safety restrictions. The exhibition opens to the public on February 20 and runs through June of 2021. Arizona artists of all mediums are invited to submit to the call online via Submittable before the 5 p.m. deadline on December 30, 2020.
This Artlink signature event is one of the largest exhibitions held in Arizona each year, and this iteration will take place throughout the whole of FOUND:RE Phoenix Hotel as part of FOUND:RE Contemporary art program's regular schedule of rotating exhibitions. This venue can hold more than one hundred works by visual and performing artists, and is open to the public on a 24/7 basis, which allows for social distancing and gives art lovers the opportunity to see the exhibition at their leisure. The works will also be shown online at foundrecontemporary.com.
Submitted artwork will be reviewed by a panel of esteemed members of the Phoenix arts community: Julie Akerly, Dancer/Choreographer and Co-Founder of nueBOX; Antoinette Cauley, Artist (Juried first prize winner in 2019); Tiffany Fairall, Chief Curator of Mesa Contemporary Arts Museum, Rafael Navarro, Artist; Mark Pomilio, Artist and Professor of Painting and Drawing at ASU.
For the 21st Annual Juried Exhibition, all submission fees are waived for visual and performing artists of all mediums who reside in the state of Arizona. As one of the biggest celebrations of contemporary art in the state, this exhibition awards a first prize of $5,000, and second and third prizes of $1,500 and $750. This open call to submit to this premier showcase is open to emerging and established artists and will include painting, drawing, photography, sculpture, printmaking, video art, fiber art, performance art and fashion design. The submission deadline is Wednesday, December 30, 2020. Submit online via Submittable.
About Artlink Inc.: Artlink keeps the arts integral to our development by connecting artists, businesses, and the community. Founded as a 501(c)(3) nonprofit organization by artists in 1989, the Artlink name is a guiding principle for the organization as it supports the stakeholders of the arts and culture community, amplifying its collective strength. Visit artlinkphx.org to sign up for the Artlink newsletter or connect socially on Facebook, Twitter, and Instagram.
About FOUND:RE Phoenix Hotel: FOUND:RE Phoenix is a 104-room hotel with details, designs, public spaces and amenities inspired by contemporary art, culture, fashion and music. The hotel enhances the city's arts offerings with an impressive collection of contemporary art and creative guest programming woven into the entire guest experience for visitors and locals to enjoy. The hotel has an on-site restaurant, MATCH Market & Bar and art gallery, FOUND:RE Contemporary. Visit foundrehotels.com, matchphx.com and foundrecontemporary.com.