wrong biennale: 4th edition
Arizona Pavilion
The Valley of Virtuality: From Zenomorphs to Xenographers
Exhibition @ mood room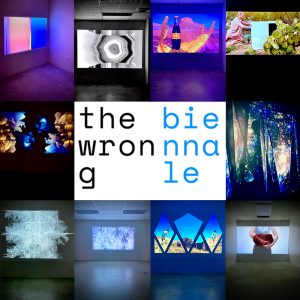 Baudrillard's famous phrase, "welcome to the desert of the real" became nothing short of an iconic moment in cinematic history, marking the climax of the most memorable diatribe by Morpheus in the entire Matrix trilogy. But how many times since the Matrix made its groundbreaking debut has Art in Arizona been written about alongside this cinematic utterance? I would have to say, too many to count really… far too many.
The fact is that our real-life as desert dwellers is split between two valleys that are so lush in fact, that we often forget that the realness of the desert surrounds us at all times. We live in the inversion of the Matrix, where the virtual abundance of water and plant life allows us not to take much notice of the harsh climate for most of the year. Even when the highest temperatures hit in summer there are any number of virtual worlds to escape too. And it is in this spirit of doubled worlds of experience that the Pavilion, The Valley of Virtuality (VoV), aims to bring the two major valley's of central Arizona together in a conversation that reaches beyond out boarders at the outset of the 4th iteration of the wrong biennale… Read more on moodroomphx.com.
The mood room is a new gallery concept by Artlink that seeks to address the needs of 21st century artistic practice. mood room is in Artlink HQ @ Park Central, 3121 N. 3rd Ave., #100, Phoenix, AZ 85013.