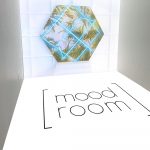 Artlink Announces the Opening of 'James Angel: Turning Points' in the mood room at Park Central in midtown Phoenix
This is the first in a series of recovery exhibitions in the wake of the COVID-19 pandemic.
Artlink Inc. is proud to announce the opening of "James Angel: Turning Points" at the mood room in midtown Phoenix at Part Central on Saturday, July 18, 2020. This survey of paintings and videos includes work from 2006 to the present and the debut of a new series of paintings as part of the mood room's commitment to showing works which were meant to be exhibited during the shelter-at-home period, but which were cancelled and not renewed at this time.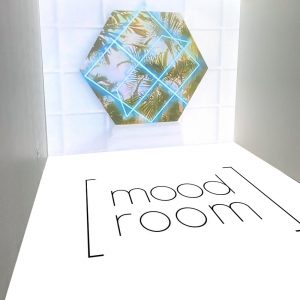 The mood room, a new gallery concept by Artlink, a 501(c)(3) nonprofit organization, seeks to address the needs of 21st century artistic practice. This interdisciplinary art space was founded in 2020 via a partnership with Park Central with support from Flinn Foundation and the Virginia G. Piper Charitable Trust. The mood room was developed to support the creative community, and this show, previously scheduled to open at FOUND:RE Contemporary, is the first in a "recovery" series of exhibitions that comprises an effort to reschedule shows that cannot be rescheduled in their original venues due to COVID-19.
Artlink and mood room are adhering to public health restrictions and taking safety precautions as recommended by CDC and government leaders. Additional restrictions include a standard "please don't touch" gallery policy, open house hours that extend over a longer period of time, capacity limitations, and masks will be required for entry.
James Angel: Turning Points – The breadth of Angel's art practice includes investigations into issues like science and physics, mutation and adaptation, non-linear dynamics and quantum mechanics, as well as science fiction and speculative futures in an effort to better understand our place in the cosmos. The range of pictorial imagery in this show, both abstract and naturalistic, represents Angel's ongoing investigations into the hidden relationships that define the world around us. Motifs from geometry, iconography, nature, and the digital realm all collide on Angel's canvasses, which speak to the different types of encounters we can have both within and beyond the visual spectrum.
Never hemmed in by a particular style or mode of expression, it is the interrelations between different works and larger groups of ideas that makes Angel's oeuvre unique in the world of contemporary art today. Often hung in a bricolage format, the opened-ended nature of Angel's installations allow viewers to draw their own conclusions by inviting multiple readings of any group of work in relation to a myriad of possible associations, connotations and disparate forms of pictorial denotation. This mid-career survey of an artist who has been exhibiting in the Valley for more than two decades represents an opportunity to celebrate the singular vision and commitment of one of Arizona's most inspired voices.
Bio: James Angel is recognized as a major contributor to an emerging downtown Phoenix arts scene. He is one of the founders of the artist collective 3CARPILEUP and the annual Chaos Theory event. Angel has studied under and worked with several well-known artists and publishers and has exhibited in many galleries and museums. Most recently his work was included in the Bushwick Open Studios Event in New York, the Torrance Art Museum in California and awarded a place in Tilt Gallery's recent juried exhibition, Infinite Possibilities: Art of Tomorrow.
The mood room Open House is Saturday, July 18, from noon to 9 p.m. at 3121 North 3rd Ave, unit 100, Phoenix, AZ. 85013. The artist will be there from 6 to 9 p.m. Regular hours are Tuesday-Saturday from 1 to 4 p.m. and by special appointment. Questions and inquires about the exhibition can be directed to Grant Vetter at grant@artlinkphx.org or 480.760.1709. Visit moodroomphx.com or on Facebook, and Instagram.
Please Note: In keeping with local and national health recommendations for re-opening businesses we are taking the strictest precautions to sanitize our facilities and provide on-site guidelines for social distancing and other measures. We ask that you please join us in fighting the spread of COVID-19 by wearing a mask and observing current social distancing guidelines of six feet or more. We will be sharing work online for those who would like to view it from home and we are open during the week as well as by appointment for those who want to have private viewings. The mood room has plenty of room to practice safe social distancing but we are limiting patrons who visit the video project room upstairs to two per viewing at this time. We will regulate access during regular gallery hours and we ask for your understanding and continued support in keeping our community healthy and safe.
About Artlink Inc.
Artlink keeps the arts integral to our development by connecting artists, businesses, and the community. Founded as a 501(c)(3) nonprofit organization by artists in 1989, the Artlink name is a guiding principle for the organization as it supports the stakeholders of the arts and culture community, amplifying its collective strength. Visit artlinkphx.org to sign up for the Artlink newsletter or connect socially on Facebook,  Twitter, and Instagram.
About mood room
The mood room is a new gallery concept by Artlink, Inc., a 501(c)3 non-profit organization, that seeks to address the needs of 21st century artistic practice. More than just an exhibition venue, the mood room is an interdisciplinary art space that was founded in 2020 via a partnership with Park Central and with support from Flinn Foundation and the Virginia G. Piper Charitable Trust. Located in midtown Phoenix, the mood room aims to connect the services that Artlink provides to artists, art venues and partner organizations while supporting cultural creatives through new opportunities to exhibit, engage and grow the influence of their art practice. Visit moodroomphx.com.
---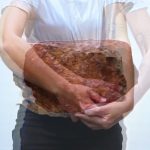 Lena Klett: To Have and to Hold 
Solo exhibition in the observation deck @ mood room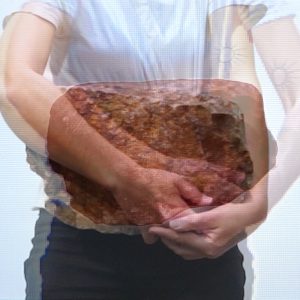 The works of Lena Klett explore the myriad of associations that are called to mind by different objects, the use of disparate artistic mediums and their connection to both human and non-human histories. In her video piece, "To Have and to Hold", we find allusions to the ceremonial, and even the matrimonial, because the title of the work evokes a rather well known pastoral question, "Do you take…". But of course, the bridge of the question selected by Klett is split between a preposition and the conclusion of a heartfelt inquiry, and perhaps, even between the joining of two very different lives. If any single phrase could imply a greater series of consequences, it would certainly be hard to find. Nevertheless, we still wouldn't want to overlook how the matrimonial is tied to the patrimonial as well as the inherited set of meanings that are connected to it, be they patriarchal, appropriative, legalistic, etc.
Perhaps, that is why the power of the image in "To Have and To Hold" is also related to the weight of gendered oppositions, bodily juxtapositions, and the resolute act which is implied by the cropped contours of a Klett's physique straining to sustain the abiding presence of a rather rough-hewn rock. Could this be another matrimonial metaphor for the ideas, people, places and things we are married to in this life? Afterall, in marriage and close friendships we often refer to that special someone as being our "rock", i.e., as a seemingly essential or foundational element of our lives. Or, is this kind of supporting role demonstrated by Klett herself with regard to how she interacts with various elements from the natural world? Part of the answer lies in knowing that Klett traveled with this particular rock to various locations throughout the Valley, not only in order to highlight the relationship between the human body and a segmented part of the earth, but she has also created a series of drawings and sculptures about how this relationship developed over time… Read more on moodroomphx.com.
The mood room is a new gallery concept by Artlink that seeks to address the needs of 21st century artistic practice. mood room is in Artlink HQ @ Park Central, 3121 N. 3rd Ave., #100, Phoenix, AZ 85013.

---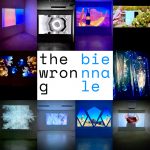 wrong biennale: 4th edition
Arizona Pavilion
The Valley of Virtuality: From Zenomorphs to Xenographers
Exhibition @ mood room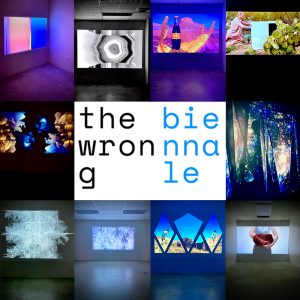 Baudrillard's famous phrase, "welcome to the desert of the real" became nothing short of an iconic moment in cinematic history, marking the climax of the most memorable diatribe by Morpheus in the entire Matrix trilogy. But how many times since the Matrix made its groundbreaking debut has Art in Arizona been written about alongside this cinematic utterance? I would have to say, too many to count really… far too many.
The fact is that our real-life as desert dwellers is split between two valleys that are so lush in fact, that we often forget that the realness of the desert surrounds us at all times. We live in the inversion of the Matrix, where the virtual abundance of water and plant life allows us not to take much notice of the harsh climate for most of the year. Even when the highest temperatures hit in summer there are any number of virtual worlds to escape too. And it is in this spirit of doubled worlds of experience that the Pavilion, The Valley of Virtuality (VoV), aims to bring the two major valley's of central Arizona together in a conversation that reaches beyond out boarders at the outset of the 4th iteration of the wrong biennale… Read more on moodroomphx.com.
The mood room is a new gallery concept by Artlink that seeks to address the needs of 21st century artistic practice. mood room is in Artlink HQ @ Park Central, 3121 N. 3rd Ave., #100, Phoenix, AZ 85013.
---