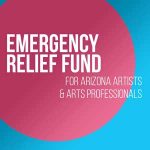 On March 19, Artlink announced the transition of The Artist Forward Fund (TAFF) application guidelines to address the current crisis and the large impact it may have on artists for some time to come. Concurrently, Arizona Commission on the Arts worked with Arizona Community Foundation to develop a similar fund. To avoid donor confusion, and so that the pathway to artist support could be most efficient, Artlink committed its promotion and TAFF funding to date to this fund, with the hope that this collaboration will provide a larger and more meaningful benefit to the artist community.
Artist application opens Saturday, April 4, 2020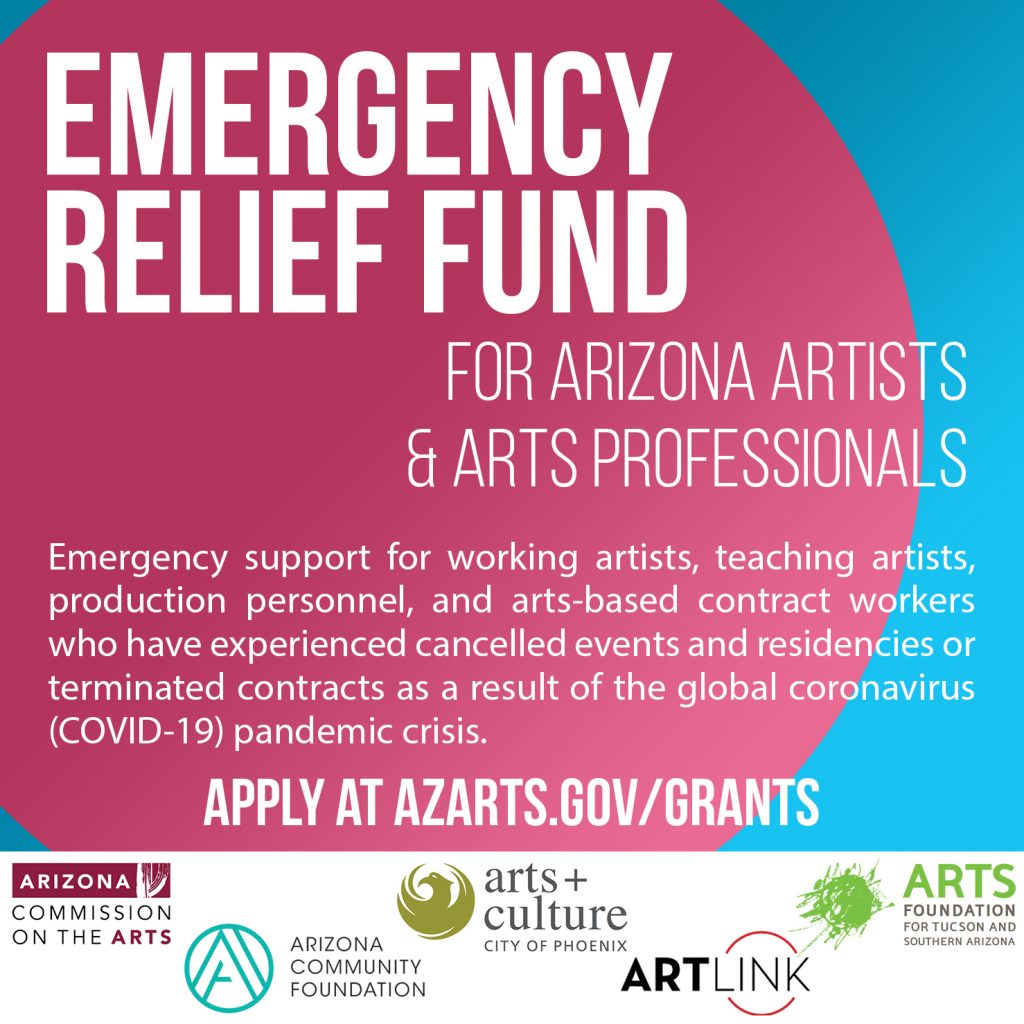 As part of broader crisis response strategies, Arizona arts funders and service organizations have set up a collaborative fund to provide emergency relief grants of $500-$1,500 to artists and arts professionals experiencing cancelled events and residencies or terminated contracts due to the coronavirus (COVID-19) pandemic.
The grant is open to individual residents of Arizona, 18 years of age or older, whose primary source of income is related to artistic production, teaching artist residencies, arts and cultural events, or contract work with nonprofit arts organizations. The online application will open Saturday, April 4, 2020.
Additional information can be found at https://azarts.gov/grant/emergency-relief-fund/.
The Emergency Relief Fund for Arizona Artists and Arts Professionals has been initially seeded with $130,000 from the Arizona Community Foundation (using funding already dedicated to individual artist support), and another $25,000 from other partners. The submission process will be managed by the Arizona Commission on the Arts, an agency of the State of Arizona. Other generous fund partners include Artlink Inc., the Arts Foundation for Tucson and Southern Arizona, and the City of Phoenix Office of Arts and Culture.
The fund is collaborative in nature; other individuals and organizations are invited to join in the effort and contribute to the fund at https://arizonacommunityfoundation.kimbia.com/covid19azartists. Based on the experiences of other communities with similar funds, the fund's partner institutions anticipate requests will significantly outpace initially-available funds.
According to Jaime Dempsey, Executive Director of the Arizona Commission on the Arts, the fund addresses an urgent need.
"Some have balked at relief for the creative sector in this crisis. Let me be clear: this relief is about human beings who make up a significant percentage of our workforce, who are among the least likely to have employer-based healthcare, and who are facing unprecedented loss of income due to widespread cancellation of events and contracts. Every artist and creative sector worker that I know has to buy groceries, care for kids or elders, and pay rent and utilities and taxes, while contributing outsized benefits to our civic and economic life, lifelong learning and community wellbeing."
Dempsey added, "Already in this crisis, artists and creatives have stepped up—adapting their work to virtual platforms, providing educational opportunities for our kids at home, and discovering new creative ways to engage our elders from a safe distance. Make no mistake, when we begin to navigate a recovery, artists' skills—to adapt, invent, inspire, to imagine and reimagine—will be more valuable, more essential to our collective human cause, than ever before."
"Acknowledging that this relief effort won't fully account for any individual's lost income and is but one relief initiative in the works, it is an honor to work with generous partners to facilitate this particular program of support."
Beyond this program of support for individuals, several Arizona arts funders and service organizations have begun rolling out relief strategies for arts and cultural organizations, with additional collaborative support strategies in development.
About the Arizona Commission on the Arts
One of 56 state and jurisdictional arts agencies across the United States, the Arizona Commission on the Arts is a 53-year-old agency of the State of Arizona and a leading force in the creative and professional development of Arizona's arts sector. Through robust programs, research initiatives, and strategic grantmaking, the Arts Commission catalyzes arts-based partnerships that strengthen Arizona communities through the arts. More information can be found at azarts.gov.
About Arizona Community Foundation
Established in 1978, the Arizona Community Foundation is a statewide family of charitable funds supported by thousands of Arizonans. With five regional offices serving communities across Arizona, ACF is among the top 25 community foundations in the nation with more than $960 million in trust and endowment assets, and is certified under the National Standards for U.S. Community Foundations. Since inception, ACF and its affiliates have awarded more than $783 million in grants, scholarships, and loans to nonprofit organizations, schools, and government agencies. More information is available at azfoundation.org.
About Artlink Inc.
Artlink keeps the arts integral to our development by connecting artists, business and community. Founded as a 501(c)(3) nonprofit organization by artists in 1989, the Artlink name is a guiding principle for the organization as it supports the stakeholders of the arts and culture community, amplifying its collective strength. Visit artlinkphx.org.
About the Arts Foundation for Tucson and Southern Arizona
The Arts Foundation for Tucson and Southern Arizona is a 501(c)3 nonprofit and funding agency. We consist of staff, a board of directors, and community members who serve on grant panels and committees and are passionate about the arts. The Arts Foundation provides arts and cultural development services through direct funding, technical assistance and professional development opportunities, and manages the creation of public art for the City of Tucson and Pima County. https://artsfoundtucson.org/
About City of Phoenix Office of Arts and Culture
The Phoenix Office of Arts and Culture supports the development of the arts and cultural community in Phoenix and seeks to raise the level of awareness and participation of city residents in the preservation, expansion and enjoyment of arts and culture. Visit https://www.phoenix.gov/arts for more information.
---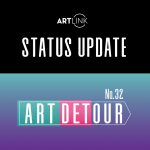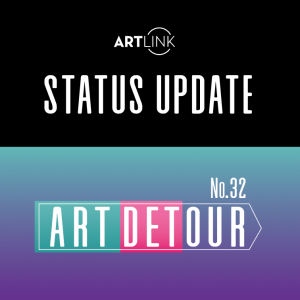 A New Way to Detour: Click and GIVE
To our fellow community members,
Thank you to all who have reached out with support during the universally challenging time. As an organization born from artists, we are "artist-strong" and we share this collective strength with you.
It wasn't so long ago we planned to celebrate you with tonight, with a toast from Mayor Kate Gallego and an exhibition by members of the Artlink Artist Council and their invited artists. This doesn't stop us from toasting you, our wonderful arts and culture community, for all that you do to make Phoenix a creative, arts-loving, cultural city!
CLICK | Detour Online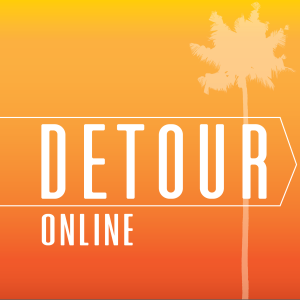 Art Detour is the Phoenix's original art walk event and over its 32 years it has evolved to include a variety of artists, arts organizations, arts venues and businesses who regularly support the arts community. These are Articipants for whose support throughout the year we are very grateful.
We can no longer invite you to find your art inspiration en masse, but we can certainly encourage you to Detour online. With a few clicks you will find new art, new experiences and new people!
Visit artdetour.com and see the many destinations who may not be opening their doors but are looking forward to welcoming you to the website and social channels.
Visit artistsaz.com to see hundreds of visual and performing artists from throughout Arizona. We often scroll through the Artist Activity page to read about artists preparing for an exhibition, working in their studio and more. It's a wonderful way to hear voices you might not otherwise hear.
GIVE | Detour Your Dollars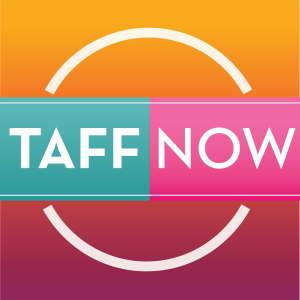 For every dollar you don't spend on art or other essentials, we ask you to consider donating to artists in need.
Artlink is working to quickly address these needs and the artists and businesses that we serve. As of March 19 we will be modifying our TAFF application guidelines to address the current needs of artists throughout the state of Arizona.
TAFF: Emergency Fund for Artists in AZ will provide up to $500 in assistance to artists experiencing a loss of income due to the Coronavirus outbreak.
Help AZ Artists in a time of need. Donate to TAFF NOW.
You can also text TAFFNOW to 855-202-2100 to get a link to donate.
TAFF is a program in partnership with the Artlink Artist Council, the exhibiting artists in the Art d'Core Exhibition. Consider the value of this exceptional showcase and give to keep art the core of our community.
Let this new Detour Begin!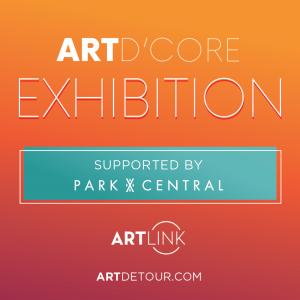 We want to thank our partners Arizona Arts Commission, Phoenix Office of Arts & Culture, Downtown Phoenix Inc. Park Central, Valley Metro, Reimagine Phoenix, Phoenix Sky Harbor International Airport, Arizona Center, Gould Evans + Canary and all of our partners for what would have been a fabulous week-long celebration.
I also want to take this opportunity to thank the Artlink's supportive Board of Directors and tremendous Artlink team, particularly Leslie Criger, Erik Karvonen and Grant Vetter, for so steadfastly continuing their work during this uncertain time. They have been in constant communication with Articipating artists and venues, helping them navigate updates or providing a kind word of encouragement.
We are most certainly in this together.
Sincerely,
Catrina Kahler
President/CEO
Artlink Inc.
P.S. Coming soon: the Art d'Core Exhibition will be online!

Your safety and well-being is, as always, the highest importance to all of us here at Artlink. In response to growing concerns surrounding coronavirus (COVID-19), Artlink is closely monitoring the recommendations of the U.S. Center for Disease Control and Prevention (CDC), Arizona Department of Health Services (ADHS), Maricopa County Department of Public Health (MCDPH), and the City of Phoenix. We are taking these public health recommendations seriously.

Safety recommendations from public health authorities include the following:
If you are sick, please stay home and away from others.
Avoid handshakes or hugs.
Avoid touching your eyes, nose, or mouth.
Avoid close contact with people who are sick.
Cover your coughs and sneezes. Hold a tissue over your mouth and nose when you cough or sneeze. Throw that tissue away and wash your hands.
Wash your hands often for at least 20 seconds and with soap and water.
If opportunity for hand washing is not available, use hand sanitizers.
Clean and disinfect frequently touched objects and surfaces.
To learn more about Coronavirus, including updates, prevention tips and frequently asked questions, go to the CDC website.
---