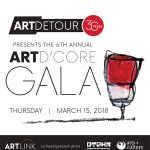 SIXTH ANNUAL ART D'CORE GALA CELEBRATES 30 YEARS OF
ART DETOUR WITH A SHOWCASE OF ACCLAIMED PHOENIX-AREA ARTISTS AND EMERGING ARTIST INVITATIONAL
Mayor Greg Stanton to give annual 'Toast to Downtown,' his last as Mayor of Phoenix
Tickets are now available on Eventbrite.
The sixth annual Art d'Core Gala will feature a one-night-only exhibition of works by 13 members of the Artlink Artist Council (AAC) paired with works by 13 emerging artists to kick off the 30th Annual Art Detour. The evening celebration of the Phoenix arts and culture community, will take place 6 to 9 p.m. Thursday, March 15, at Warehouse 215 at Bentley Projects, 215 E. Grant St. This creative spin on a traditional gala is hosted by Artlink Inc. in partnership with the City of Phoenix and Downtown Phoenix Inc. and serves as opening night to an Art Detour event that has grown to an expanded six-day, multi-faceted exploration of Phoenix's arts and culture.
A brief program celebrating the arts and culture community's contribution to the development of a dynamic downtown Phoenix will be capped by Phoenix Mayor Greg Stanton's annual "Toast to Downtown," his last as Phoenix Mayor. In 2017, Mayor Stanton spoke to this contribution by stating, "If you love our downtown…it's because the artists were here first. They made it for us." Art Detour 30 embraces this history by spotlighting each of Phoenix's arts districts that have developed as a result of an engaged arts community.
Artlink Artist Council/Emerging Artist Invitational Exhibition at Art d'Core Gala
The AAC is comprised of Arizona-based, established professional artists who have worked 10 years or more in exhibiting and/or producing exhibitions that shine a spotlight on Phoenix. One of the goals of the AAC, created in 2017, is to provide a platform for these professional artists to share their experience with emerging artists, as peer mentors.
In the spirit of this collaboration, this year, each member of the AAC has chosen an up-and-coming artist to be included in the one-night Art d'Core Gala exhibition, doubling the amount of artwork on view in comparison to last year's event. Works by the following artists will be on view and for sale during the Art d'Core Gala celebration:
Marilyn Szabo and Hunter Zelner
Joe Ray and Armondo Williams
Randy Slack and Megan Koth
Joan Baron and Heather Couch
William Legoullon and Blake Quinn
Christine Cassano and Cydnei Mallory
Bill Dambrova and Eric B Jones
Pete Deise and Sam Fresquez
Patricia Sannit and Amy Manning
Constance McBride and Dani Godreau
Rembrandt Quiballo and Malena Barnhart
Annie Lopez and Katie Owens
Fortoul Brothers and Elizabeth Brice-Heames
The featured art for Art Detour 30, "Salud" by Phoenix artist Michael Viglietta, will also be on display. DJ Rani G will provide the entertainment for the festive evening that includes art, music, dancing and a no host bar. The "Detour" portion of the six-day event begins the following day on Friday, March 16 with tours of arts districts tours and other special events that showcase the culture of the nation's fifth largest city. See more about the expansion of Art Detour here.
"The invitational exhibition embodies the spirit of Phoenix's artist community as we kick off the 30th anniversary of Art Detour," said Artlink President Catrina Kahler. "This special opening night will honor our city's rich cultural history, point to a bright future, and extend an invitation to all to experience the six-day, 30-year milestone celebration."
Tickets are $20 per person, $30 per couple and are available until 6 p.m. March 14 at artdetour.com. Tickets will be available at the door day-of for $25 per person, $40 per couple. Event is open to the public. Come as you are; creative cocktail attire encouraged.
The Art d'Core Gala event is a fundraiser for Artlink Inc., an active all-volunteer 501(c)(3) non-profit organization, with a portion of the proceeds dedicated to The Artist Forward Fund (TAFF) a new artist development fund designed to help provide direct financial support to local artists.
Purchase tickets on Eventbrite.
MORE INFORMATION:
About Art Detour:
Art Detour is Produced by Artlink Inc. in partnership with City of Phoenix Mayor's Office and Office of Arts & Culture, Downtown Phoenix Inc. (DPI), and support from Phoenix Convention Center, Arizona Commission on the Arts, Phoenix Art Museum, Valley Metro, AZCentral/The Arizona Republic, City of Phoenix Public Works Department, City of Phoenix Water Services Department, Muse Apartments, Legends Entertainment District, and Warehouse215. District and programming partners include Roosevelt Row CDC, Phoenix Warehouse District, Central Arts District, Historic Grand Avenue, and also Modern Phoenix Week, Phoenix Urban Design Week, and On Central Fashion + Art Weekend and the Artlink Artist Council (AAC). The new six-day event format of the event will kick off with the opening night Art d'Core Gala celebration; span the weekend with a scheduled exploration of key arts districts and artist studios; and end with a symposium that will spur interest in art collecting, foster artists' career development, and identify actionable items to create a culturally rich and economically diverse city. For more details on how to sponsor, see this link.
About Artlink Inc.
Artlink keeps the arts integral to the development of our city by connecting artists, business and community. Artlink supports a variety of community-based art events and initiatives, including complimentary trolley tours during the monthly First Friday and Third Friday Art Walks, The Artist Forward Fund, Phoenix Urban Guide, and the annual Art Detour, Art d'Core Gala and Juried Exhibition. Formed as a 501(c)(3) nonprofit organization in 1989, Artlink is supported by City of Phoenix Office of Arts and Culture, Downtown Phoenix Inc., Arizona Commission on the Arts, and works in partnership with Roosevelt Row CDC, Phoenix Warehouse District, Central Arts District and Historic Grand Avenue. Visit www.artlinkphx.org to sign up for the Artlink newsletter or connect socially on Facebook, Twitter and Instagram.
---
---
---
---
---
---
---
---