Lena Klett: To Have and to Hold 
Solo exhibition in the observation deck @ mood room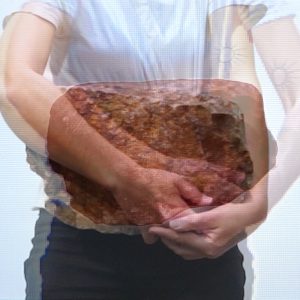 The works of Lena Klett explore the myriad of associations that are called to mind by different objects, the use of disparate artistic mediums and their connection to both human and non-human histories. In her video piece, "To Have and to Hold", we find allusions to the ceremonial, and even the matrimonial, because the title of the work evokes a rather well known pastoral question, "Do you take…". But of course, the bridge of the question selected by Klett is split between a preposition and the conclusion of a heartfelt inquiry, and perhaps, even between the joining of two very different lives. If any single phrase could imply a greater series of consequences, it would certainly be hard to find. Nevertheless, we still wouldn't want to overlook how the matrimonial is tied to the patrimonial as well as the inherited set of meanings that are connected to it, be they patriarchal, appropriative, legalistic, etc.
Perhaps, that is why the power of the image in "To Have and To Hold" is also related to the weight of gendered oppositions, bodily juxtapositions, and the resolute act which is implied by the cropped contours of a Klett's physique straining to sustain the abiding presence of a rather rough-hewn rock. Could this be another matrimonial metaphor for the ideas, people, places and things we are married to in this life? Afterall, in marriage and close friendships we often refer to that special someone as being our "rock", i.e., as a seemingly essential or foundational element of our lives. Or, is this kind of supporting role demonstrated by Klett herself with regard to how she interacts with various elements from the natural world? Part of the answer lies in knowing that Klett traveled with this particular rock to various locations throughout the Valley, not only in order to highlight the relationship between the human body and a segmented part of the earth, but she has also created a series of drawings and sculptures about how this relationship developed over time… Read more on moodroomphx.com.
The mood room is a new gallery concept by Artlink that seeks to address the needs of 21st century artistic practice. mood room is in Artlink HQ @ Park Central, 3121 N. 3rd Ave., #100, Phoenix, AZ 85013.