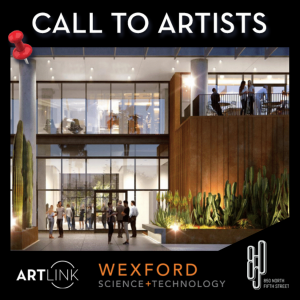 The following call for artists of all practices is presented by Wexford Science + Technology ("Wexford") with support provided by Artlink Inc. The deadline to submit is Tuesday, April 14 , 2020 by 5:00 p.m. (local Arizona time).
BACKGROUND AND OVERVIEW
Wexford is interested in working with artists to creatively address the lobby of the new Phoenix Biomedical Campus building.
Project: Wexford/ASU 850 N. 5th St. Lobby Installations RFQ
Address: 850 N. 5th St, Phoenix, AZ 85004
Budget: $14,000 per installation (two wall installations/one ceiling installation)
Overview: Located adjacent to ASU's downtown campus, 850 N. 5th St at the Phoenix Biomedical Campus (PBC) expands the downtown biomedical corridor to the northern edges of the urban core. Designed to integrate research, entrepreneurial activity, and corporate engagement, the building offers opportunities for meaningful collaboration with the building tenants and community. 850 N. 5th St serves as a bridge between the surrounding neighborhoods, the academic community and the professional community.
The building's design purposefully invites the neighborhood to participate in its success through the first floor program elements that are visually porous and accessible. As part of a specific place, the building architecture draws inspiration from the saguaro cactus as a metaphor for sustainability and community. The saguaro has thrived in  the local bioclimatic conditions with a symbiotic relationship to wildlife across its long life. The architecture for 850 N. 5th St creates a hub for the Phoenix downtown biology science and technology knowledge community to thrive.
Subtle references to the saguaro are embedded in the modern architecture of the building creating an elegant solution that is appropriate to its space building and interior space orientation, as well as the directionally systemic relationship between glazing and shading systems are critical in the design, as well as performance.
The visual references of the Sonoran Desert and the Saguaro's iconic form plays on your senses because you can also interpret the patterns and shapes as a story about electrical connections found in biology and technology. Holistically, the interior program is about the experience of place that celebrates the DNA of life.
Note: This opportunity is open to designers and artists living and working in the state of Arizona; have the ability to produce exemplary art; and have personal connections to the downtown Phoenix community.