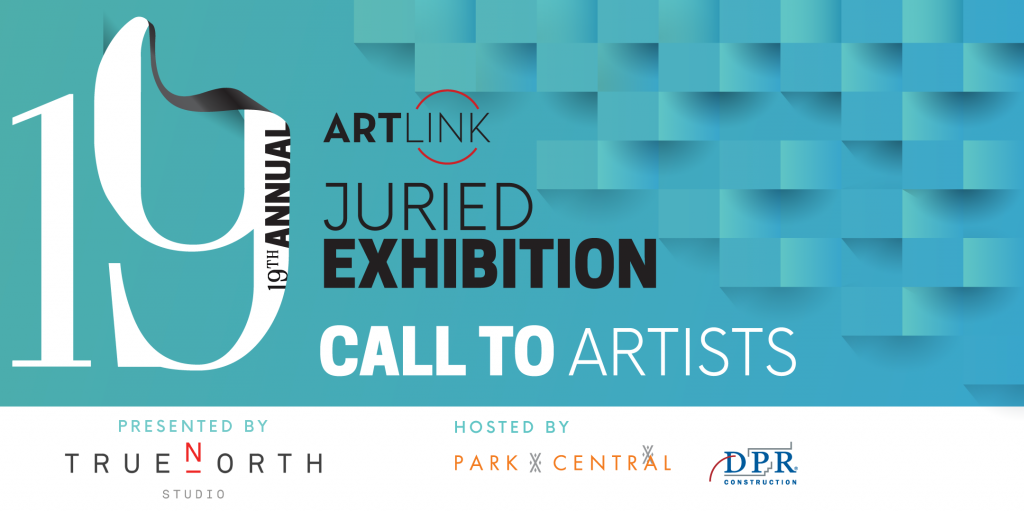 Deadline: Wednesday, January 2, 2019— 11:59 p.m. (local Arizona time)
Artlink Inc. is now accepting entries for the 19th Annual Juried Exhibition presented by True North Studio, featuring the works of professional artists residing in the state of Arizona. The exhibition is hosted by Park Central and DPR Construction, and will take place at the newly renovated Park Central from February 7 – 9, 2019.
The schedule coincides with a series of Arizona arts and culture events:
Thursday, Feb 7, 6-9 p.m.: Juried Exhibition Opening Reception
Friday, Feb 8: AZ Governor's Arts Awards Finalists Reception, hosted by Arizona Citizens for the Arts
Park Central is partnering with Artlink Inc. in spearheading the development of an Arts and Culture Plan by engaging key stakeholders and connecting with relevant arts and culture assets of this community. Submitted artwork will be reviewed by a panel of esteemed members of the Phoenix arts community. Past juried panelists include:
2016 – Ann Marshall, Fred Tieken, Nancy Hill

2015 – Bentley Calverley, Dana M Tepper, John Tuomisto-Bell

2014 – Jim Ballinger, Louise Roman, Randy Slack

2013 – Gordon Knox, Robrt Pela, Angela Ellsworth

2012 – Tim Rodgers, Adriene Jenik, Cory Weeks
The 2017 jurors are:
Lisa Sette
For over three trailblazing decades, Lisa Sette has remained committed to discovering and exposing original, intriguing forms of expression. Lisa Sette Gallery exhibits painting, sculpture, photography, installation and performance pieces from an impressive roster of emerging and established artists, as well as maintaining a clientele of local and international collectors devoted to its founder's adventurous curatorial vision. For more about Lisa Sette and Lisa Sette Gallery, click here.
Gennaro Garcia
Artist Gennaro Garcia migrated from his native Sonora, Mexico to Arizona in his early 20's with drive, passion and the desire to create art. His combination of Italian techniques with a Mexican color palette has resulted in art that showcases both world-class skill and a true Latino immigrant perspective. His art pieces are featured in many commercial and residential interiors, and he has participated in more than 60 exhibits in the last 4 years, including 9 solo shows. For more about Gennaro Garcia, click here.
Jennifer McCabe
Jennifer McCabe is the director and chief curator for Scottsdale Museum of Contemporary Art. McCabe has taught modern and contemporary art at Arizona State University, San Francisco State University, Mills College, and City College of San Francisco. Before joining SMoCA, she served as executive director and chief curator of the Museum of Craft and Folk Art in San Francisco. She holds a master's in art history from SF State, and is a Ph.D. candidate in art history at ASU. For more about Jennifer McCabe and SMoCA, click here.
Three winners of the many pieces in the 2019 Exhibition will receive cash awards, including a first place acquisition prize funded by True North Studio.
The first place award of $5,000 will be given to a jury-selected artist for an original work. The winning artwork will be on public display as part of True North Studio's permanent collection.

The first runner-up will receive $1,500.

The second runner-up will receive $750.
SUBMISSION DETAILS
All selected artists will be eligible for awards. A variety of artworks are welcome for submission, including: oil, watercolor, acrylic, graphite, charcoal, pastels, photography, ceramics, printmaking, textile, mixed media, new genre, performance, video, and sculpture/three dimensional pieces.
The online submission deadline is January 2, 2019, by midnight. Participants who have exhibited in the past are permitted to submit but may not submit a piece included in any previous Artlink Juried Exhibition. NOTE: By submitting artwork for consideration, the artist agrees to the following:
All artists selected for the Juried Exhibition will be eligible for awards. Only works that are for sale will be considered for the first place award.
The artist agrees that they will deliver their selected artwork to Park Central for installation on Wednesday, February 6, between 8 a.m. and 10 a.m.
Artist agrees to pick-up selected works from Park Central on Sunday, February 10.
Submission Checklist:
Please follow ALL guidelines and complete the entire submission form. Submissions that are either incomplete or do not follow provided guidelines will not be accepted.
1. You may submit up to (three) 3 artwork images in .jpg format with a minimum 72 dpi per image. No greater than 6 inches on the largest size. Selected artists will be asked to provide a high resolution image for publication. Please see the submission form for acceptable files.
2. The $30 application fee is to be paid at the time of the submission. NOTE: Artlink All Access Artist Articipants (paid level), student articipants (discounted paid level) and Artlink volunteers are exempt from the application fee.
3. All artists must be signed up as Artlink Articipants before submitting your application (if you are already registered, you may skip this step):
A la Carte (free level): For more information and to register, click here.
*All Access (paid level): For more information and to register, click here.
*Student (discount level): For more information and to register, click here.
*The $30 Juried Show application fee is waived at these registration levels.
4. The artist agrees that they will deliver their selected artwork to Park Central at 3121 N 3rd Ave, Phoenix, AZ 85013 for installation on Wednesday, February 6, between 8 a.m. and 10 a.m.
5. All sales will be handled by Artlink, with the exception of the True North Studio acquisition, which will be a direct purchase from the artist. In the event of a sale Artlink will retain a 10% commission.
6. Application fees are non-refundable, regardless of acceptance.
7. Not all artwork will be accepted. Every submission is appreciated and will be seriously considered by a jury of experienced arts professionals.
8. Artists will be notified by email. Please do not call for results.
9. Artlink Inc., Park Central ownership and event sponsors are not liable for any damage or theft that may occur to any person or property. Artists will be asked to sign a waiver and may insure their own artwork, as desired.
10. Artist agrees to pick-up selected works from Park Central on Sunday, February 10.
If registered as a (paid level) All Access Articipant: Apply Here
If registered as a (free level) A La Carte Articipant: Apply Here
Email with any questions to submissions@artlinkphx.org
Deadline: Wednesday, January 2, 2019— 11:59 p.m. (local Arizona time)