Artlink Inc. is pleased to present 48 exceptional works in the 20th Annual Artlink Juried Exhibition. This exhibit has been a premier showcase for emerging and established artists throughout the state, debuting a wide cross-section of the most accomplished art being made in Arizona today. The event is one of the largest group exhibitions held in Arizona, and this year it will take place in a 20,000 square foot warehouse in Park Central, which has also become the new home of Artlink, a 501c3 nonprofit arts organization that has been supporting artists for 32 years. This incredible venue sets the stage for a multi-media exhibition of painting, photography, sculpture, performance art and fashion design that creates a dynamic survey of contemporary forms of artistic expression from across the state.
Each year three outstanding artists receive cash awards as part of the juried process which is funded by Artlink. The first place award winner will receive $5,000, the runner-up will receive $1,500, and the second runner-up will receive $750.
Winners will be announced at the opening reception of the exhibition which takes place on Thursday, January 23, from 6 to 9 p.m. at the newly renovated Park Central, located at 3121 N. 3rd Ave. in midtown Phoenix. Everyone is invited to attend. RSVP Here.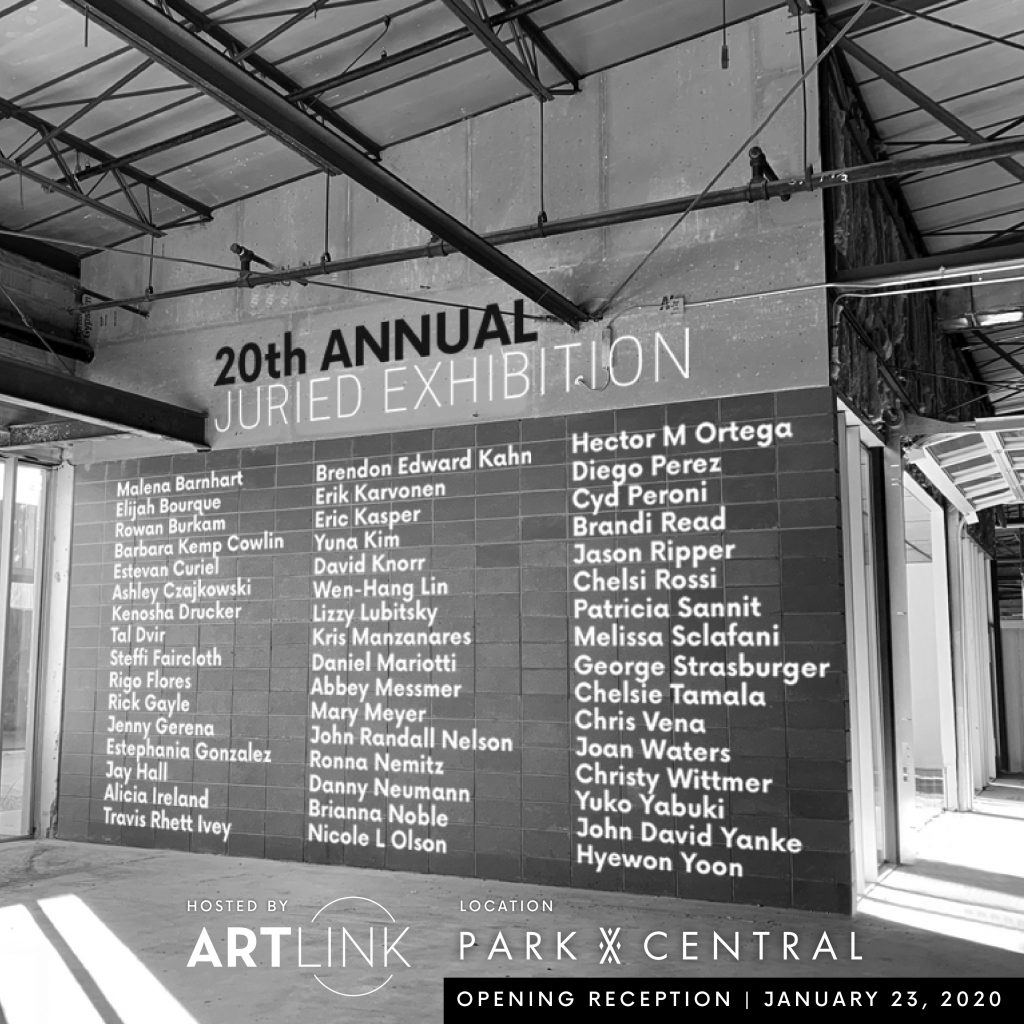 A panel of prestigious jurors from the Arizona arts community has selected 48 inspired works from the 450 pieces that were submitted for consideration. For the 20th year celebration of the Artlink Juried Exhibition, a dedicated panel of gallerists, curators and artists representing the visual arts, the performing arts, and fashion design participated in curating the largest multi-media showcase ever organized by Artlink Inc. The members of the jury for this exhibition included Bentley Calverley, Liliana Gomez, Rembrandt Quiballo, Sally Russell, and Tricee Thomas, all of whom are esteemed members of Artlink's Board of Directors.
The artists selected by the jury include: Malena Barnhart, Elijah Bourque, Rowan Burkam, Barbara Kemp Cowlin, Estevan Curiel, Ashley Czajkowski, Kenosha Drucker, Tal Dvir, Steffi Faircloth, Rigo Flores, Rick Gayle, Jenny Gerena, Estephania Gonzalez, Jay Hall, Alicia Ireland, Travis Rhett Ivey, Brendon Edward Kahn, Erik Karvonen, Eric Kasper, Yuna Kim, David Knorr, Wen-Hang Lin, Lizzy Lubitsky, Kris Manzanares, Daniel Mariotti, Abbey Messmer, Mary Meyer, John Randall Nelson, Ronna Nemitz, Danny Neumann, Brianna Noble, Nicole L Olson, Hector M Ortega, Diego Perez, Cyd Peroni, Brandi Read, Jason Ripper, Chelsi Rossi, Patricia Sannit, Melissa Sclafani, George Strasburger, Chelsie Tamala, Chris Vena, Joan Waters, Christy Wittmer, Yuko Yabuki, John David Yanke, and Hyewon Yoon.
The exhibition will be open to the public on January 23, from 6 to 9 p.m. and will remain open by appointment thereafter. The exhibition will close on First Friday, February 7. The majority of works are available for purchase.
About Artlink Inc.
Artlink keeps the arts integral to the development of our city by connecting artists, business and community. Artlink supports a variety of community-based art events and initiatives, including complimentary shuttles during the monthly First Friday Art Walks, The Artist Forward Fund, Phoenix Urban Guide, and the annual Art Detour, Art d'Core Gala and Juried Exhibition. Formed as a 501(c)(3) nonprofit organization in 1989, Artlink is supported by City of Phoenix Office of Arts and Culture, Downtown Phoenix Inc., Arizona Commission on the Arts, Park Central, Marriott International, True North Studio, Valley Metro, Phoenix Convention Center, Reimagine Phoenix, and works in partnership with Roosevelt Row CDC, Phoenix Warehouse District, Central Arts District and Historic Grand Avenue.