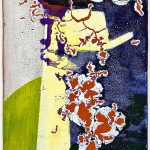 This is part of a series of recovery exhibitions in the wake of the COVID-19 pandemic.
eye lounge collective presents INSIGHT, an exhibition highlighting the collective's current eleven artists and their individual approaches to ways of seeing. Utilizing photography, painting, installation, fibers, ceramics and multimedia, the artists explore the concept of sight and reflections through time.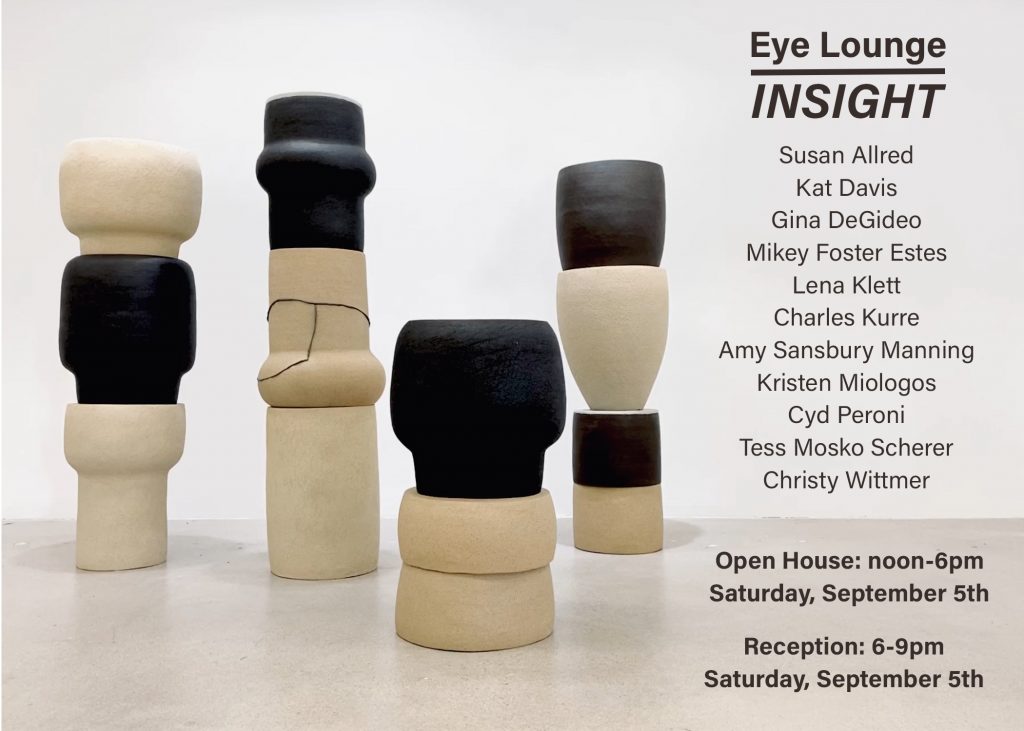 Originally scheduled for March / April 2020, the physical exhibition was canceled due to COVID-19 and instead appeared on the collective's website. In the past four months many of the artists have expanded upon the work presented in the online exhibition and created new work. INSIGHT at Artlink's mood room is both a physical manifestation and an evolution of the original exhibition.
INSIGHT features the work of Susan Allred, Kat Davis, Gina DeGideo, Mikey Foster Estes, Lena Klett, Charles Kurre, Amy Sansbury Manning, Kristen Miologos, Tess Mosko Scherer, Cyd Peroni, and Christy Wittmer.
Open House + Reception: Saturday, September 5th from noon-6pm (Open House) + 6-9pm (Reception)
Gallery Hours are Wednesday through Saturday, 12-4pm
Exhibition runs: September 5 – September 19, 2020
Location: mood room at Park Central 3121 N. 3rd Avenue, Phoenix, AZ.
About Eye Lounge: Eye Lounge is an artist-run collective and contemporary art space committed to fostering emerging and established visual artists in downtown Phoenix. The collective was established in 2000 and is a founding member of Roosevelt Row.
For more information, visit https://www.eyelounge.com/about.
# # #
About Artlink Inc.
Artlink keeps the arts integral to our development by connecting artists, businesses, and the community. Founded as a 501(c)(3) nonprofit organization by artists in 1989, the Artlink name is a guiding principle for the organization as it supports the stakeholders of the arts and culture community, amplifying its collective strength. Visit artlinkphx.org to sign up for the Artlink newsletter or connect socially on Facebook, Twitter, and Instagram.
About mood room
The mood room is a new gallery concept by Artlink, Inc., a 501(c)3 non-profit organization, that seeks to address the needs of 21st century artistic practice. More than just an exhibition venue, the mood room is an interdisciplinary art space that was founded in 2020 via a partnership with Park Central and with support from Flinn Foundation and the Virginia G. Piper Charitable Trust. Located in midtown Phoenix, the mood room aims to connect the services that Artlink provides to artists, art venues and partner organizations while supporting cultural creatives through new opportunities to exhibit, engage and grow the influence of their art practice.
---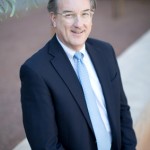 Artlink, Inc. will conduct a guided downtown gallery tour on Saturday, November 16, from 1:00 pm – 4:00 pm.
We're very pleased to announce that Jim Ballinger, Director of Phoenix Art Museum, will be our official host and guide.  Tour participants will gain intimate access to three distinctive downtown galleries and have a chance to talk with the artists and curators one-on-one.
"I look forward to the chance to share with people some of the outstanding work being done locally," said Ballinger.  "This is a relaxing and informative way to learn more about these artists and their work. My wife, Linda, and I both live and work downtown, so it is exciting to see the continued increase in arts activities and the growing high quality of our regional artists."
"The purpose of the Artlink Collectors Tours is to promote the range and quality of work being created and exhibited in downtown Phoenix, and make it accessible to emerging and established collectors," said Catrina Kahler, Artlink President.
On Saturday, November 16, Phoenix Art Museum Director James Ballinger will host and guide the tour, which will include three galleries:
Willo North – La Figura, a new body of work by painter Hugo Medina focused on the human figure.
eye lounge – Family Portraits: The Demography of Us, a group show by eye lounge artists using the framework of the family portrait.
R. Pela Contemporary Art – Pop and Circumstance II: new work by Janet de Berge Lange, Kim Forbes-Mullane, and Peter Mars. This 25th anniversary exhibition of the 1998 show, Pop and Circumstance depicts, in assemblage and paintings, pop iconography and themes of empowered women.
What:  Artlink Collectors Tour
When:  Saturday, November 16, 1:00-4:00 p.m.
Where:  Tour departs from the Phoenix Art Museum, 1625 N. Central Avenue
Tickets:  $35 per ticket, or two for $60, includes transportation to the galleries and light refreshments
Purchase online:  https://artlinkcollectorstournovember2013.eventbrite.com
About Artlink Artlink, Inc. is a 501(c)(3) nonprofit organization dedicated to linking artists, business and the public to better understand, appreciate and support a thriving arts community in downtown Phoenix. Artlink supports a variety of community-based art events happening throughout the year and also operates the A.E. England Gallery, which is committed to showcasing the talents of new and emerging local artists. Ongoing community projects include, support of the First Fridays Art Walk, the country's largest self-guided gallery tour; Artlink Collectors Tours, specially selected guided gallery tours; an annual Juried Exhibition; and the annual Art Detour self-guided tour, featuring open studios, pop-up galleries, family-friendly art experiences and more. Artlink's year-round activities are supported by Phoenix Art Museum, Dunn Transportation, Snell & Wilmer, Arizona Commission on the Arts, Phoenix Community Alliance, The Torosian Foundation, Downtown Voices Coalition, Grand Avenue Merchants Association, Roosevelt Row CDC, Phoenix Center for the Arts, 6th Avenue Gallery, Urban Affair and Invexi Web Development.
---