'Hello, Sunshine' Exhibition by TAFF Recipient Daniel Mariotti Opens December 6, 2018
Hello, Sunshine by Daniel Mariotti features 30 photographs, taken over 30 days of journaling, that capture the fluctuations of his chronic depression. The exhibition of The Artist Forward Fund award recipient opens Thursday, December 6, 2018 and runs for two nights only!
Artlink Inc., in partnership with the Artlink Artist Council (AAC), announces the art exhibition Hello, Sunshine produced by the second grant recipient of The Artist Forward Fund (TAFF), Daniel Mariotti. Hello, Sunshine will be a two-night exhibition and will open with an artist reception at 6 p.m. Thursday, Dec. 6 2018, at Arizona Center, 455 N 3RD St, Ste. 1007, Phoenix. The exhibition will be open to the public from 6 to 9 p.m. on Thursday, and from 6 to 10 p.m. on First Friday, Dec. 7, 2018.
Daniel Mariotti's new photographic series explores how perception is affected by emotional and metaphysical masses that operate like gravity. Hello, Sunshine draws from Einstein's theory of relativity and explores the specific gravity of depression. In space-time, objects that travel through the fabric of the universe are warped, bent and twisted by the masses and motions of the other objects within it; similarly, Mariotti describes the mass of depression as one that obscures his focus and gradually changes the way he experiences the world. For the installation, Mariotti created 30 photographs over 30 days of journaling to capture the pull and fluctuations of this chronic disease.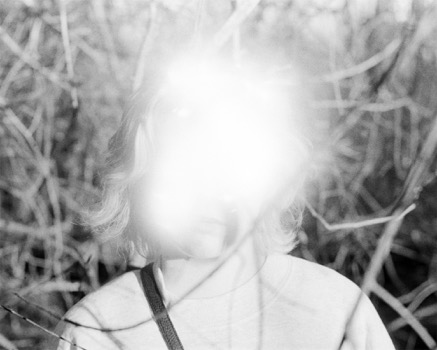 Title: "May 23"

Size: 8.5″x11″ (framed)

Medium: Archival Pigment Print

Price: $125
"Even on my best days, where the world appears most vivid and colorful, depression is ever-present, a force physically seen in each picture. Depression is visually mimicked by altering the camera; poking holes into the shutter creates the fog seen in the images, a fog that contracts and grows at the mercy of space-time." Mariotti continues, "It wasn't until adolescence that I realized not everyone was moving through this, sometimes thick, fog. It wasn't until much later I found words and images to help bridge the gap between my experience and how others live their lives."
A series of poems accompany Mariotti's images to represent a broader spectrum of time. They offer observers another entry to the work in an attempt to make what is an ethereal, enduring experience more concrete, tangible, and most importantly human.
– – –
About TAFF and the AAC
Formed in February of 2017, the AAC has identified key areas where the Council, which is comprised of professional artists, can provide support to emerging artists: mentoring, exhibition planning, sharing connections/networking support, portfolio review and practical advice on mounting exhibitions. For the second annual TAFF call, the AAC sought an artist recipient demonstrating potential in their practice through risk-taking and pushing their work in dynamic ways, who is at a critical juncture in their career when this support would be most impactful.
About Daniel Mariotti
Daniel Mariotti (1992, Mesa, United States) makes photos, drawings, prints, and films. By manipulating the medium he works with, Mariotti creates intense personal moments created by means of rules and structure from a chaotic design. His intent is to create instances of chance to result in a visual output that can be tweaked and tested until further questions arise. Through abstraction he makes the viewer focus on the materiality of the object and delve into what happened to it. Layering helps him create a story and a history that is visually documented to be read and solved. His works feature coincidental, accidental and unexpected connections which make it possible to lead to surprising analogies. By experimenting with aleatoric processes, he formalizes the coincidental and emphasizes the conscious process of composition that is behind the seemingly random works. The thought processes, which are supposedly private, highly subjective and unfiltered in their references to dream worlds, are frequently revealed as assemblages. See more of her work at www.danielmariotti.com.
About Artlink Inc.
Artlink keeps the arts integral to the development of our city by connecting artists, business and community. Artlink supports a variety of community-based art events and initiatives, including complimentary trolley tours during the monthly First Friday and Third Friday Art Walks, The Artist Forward Fund, Phoenix Urban Guide, and the annual Art Detour, Art d'Core Gala and Juried Exhibition. Formed as a 501(c)(3) nonprofit organization in 1989, Artlink is supported by City of Phoenix Office of Arts and Culture, Downtown Phoenix Inc., Arizona Commission on the Arts, Phoenix Art Museum, Dunn Transportation, and works in partnership with Roosevelt Row CDC, Phoenix Warehouse District, Central Arts District and Historic Grand Avenue. Visit www.artlinkphx.org to sign up for the Artlink newsletter or connect socially on Facebook, Twitter and Instagram.