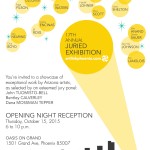 Artlink's 17th Annual Juried Exhibition Opens Thursday, October 15 at Oasis on Grand
Artlink's 17th Annual Juried Exhibition presents the work of seventeen exceptional Arizona artists. A panel of three jurors from the Arizona arts community chose the exhibition pieces from over fifty submissions. This year's jurors included Phoenix artist John Tuomisto-Bell, Bentley Projects owner Bentley Calverley, and ASU Art Museum Chief Conservator Dana Mossman-Tepper.
The 17 artists featured in this year's show are Julie Anand & Damon Sauer, Chris Boyd, Carlos Encinas, Page Filson, Valerie Hunt, Sam W. J. Johnson, Ann Langlois, Ann Lillqvist, Harold Lohner, Dan Nearing, Jill Roig, Chris Scott, Lacey Shelton, Lucretia Torva, A.O. Tucker and Joan Waters.
The top three selections will be announced at the Opening Reception, this Thursday, October 15 from 6 – 10 p.m.
RSVP to the Opening Reception on Facebook

The show will remain in place for Third Friday, October 16, from 6 to 10 p.m.
About Artlink
Artlink Inc. is a 501(c)(3) nonprofit organization dedicated to linking artists, business and the public to better understand, appreciate and support a thriving arts community in downtown Phoenix. Artlink supports a variety of community-based art events, including complimentary Trolley Tours during the monthly First Friday Art Walk, one of the country's largest self-guided gallery tour; Downtown Arts Tours, specially selected guided gallery tours; a year-round Pop Up Gallery Program featuring exhibitions in non-traditional spaces; the annual Juried Exhibition; the annual Art d'Core Gala, and the annual Art Detour self-guided tour, featuring open studios, pop-up galleries, family-friendly art experiences and more. Artlink's year-round activities are supported by Downtown Phoenix, Inc., City of Phoenix Office of Arts and Culture, CityScape, APS, Arizona Commission on the Arts, Phoenix Art Museum, The Arizona Republic, Phoenix Convention Center, Dunn Transportation, The Torosian Foundation, Valley Metro, City of Phoenix Aviation Department, Support Sky Harbor Coalition, Arizona Center, Downtown Voices Coalition, Downtown Phoenix Journal, Invexi Web Development, Simply Adam Mann, Roosevelt Row CDC, and the Grand Avenue Members Association. For more information, visit artlinkphoenix.org or connect socially on Facebook, Twitter and Instagram.
---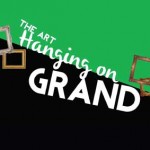 "Art Hanging on Grand" Public Art Show at the 5th Annual Grand Avenue Festival
Artlink and Oasis on Grand are proud to present its first "Art Hanging on Grand" Public Art Show during this year's Grand Avenue Festival at Oasis on Grand on Saturday, October 19, 2013.
Artists of all skill levels and ages are encouraged to submit hangable works of art for public display and sale during this annual event expected to draw thousands. The "Art Hanging on Grand" affords participants who are currently showing somewhere else, not presently showing or who have never displayed their art publicly, an opportunity to share it.
Art works must be hangable, self-contained, 25lb. max, no size maximum, and will be accepted on a first come, first served basis. Hanging mobiles and sculptures are also accepted. 100% of all art sales proceeds (less PayPal service fees) will go directly to the artist.
The fee to participate is $25 and will support "Art Hanging on Grand" and other Artlink projects.
The NEW deadline for sign-ups is Wednesday, October 16, and artwork is to be dropped off by 6 p.m. that same day (drop-off details below).
The "Art Hanging on Grand" is a new program of the annual Grand Avenue Festival, a free celebration of the vibrant culture, art, history and adaptive re-use of the Lower Grand Avenue Arts and Small Business District.  Small businesses and art spaces along this unique and historic travel corridor will host tours of vintage commercial buildings and interesting adaptive re-use projects; create art exhibits; sponsor performances and music; and provide other special activities that highlight the history of this distinctive area of downtown.
The Grand Avenue Festival takes place on Saturday, October 19, from 10:00am – 8:00pm with After Hours from 8:00pm – 10:00pm.  On Third Friday, October 18, there will be a "Art Hanging on Grand" artist's reception from 6pm-9pm.  Artists are encouraged to invite family, friends and collectors to the opening and throughout the Grand Avenue Festival event. Free Grand Avenue Festival Pedi-cabs will also stop at the Oasis on Grand, in front of "Art Hanging on Grand" making this a prime location for the event.
Art Drop Off Info:
Wednesday, October 16, by 6 p.m.
Oasis on Grand (Roosevelt & Grand Avenue)
1501 NW Grand Avenue, Phoenix, AZ 85007
For more information, contact mike@artlinkphoenix.org
Submit your payment.
---