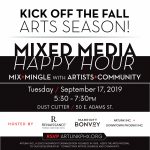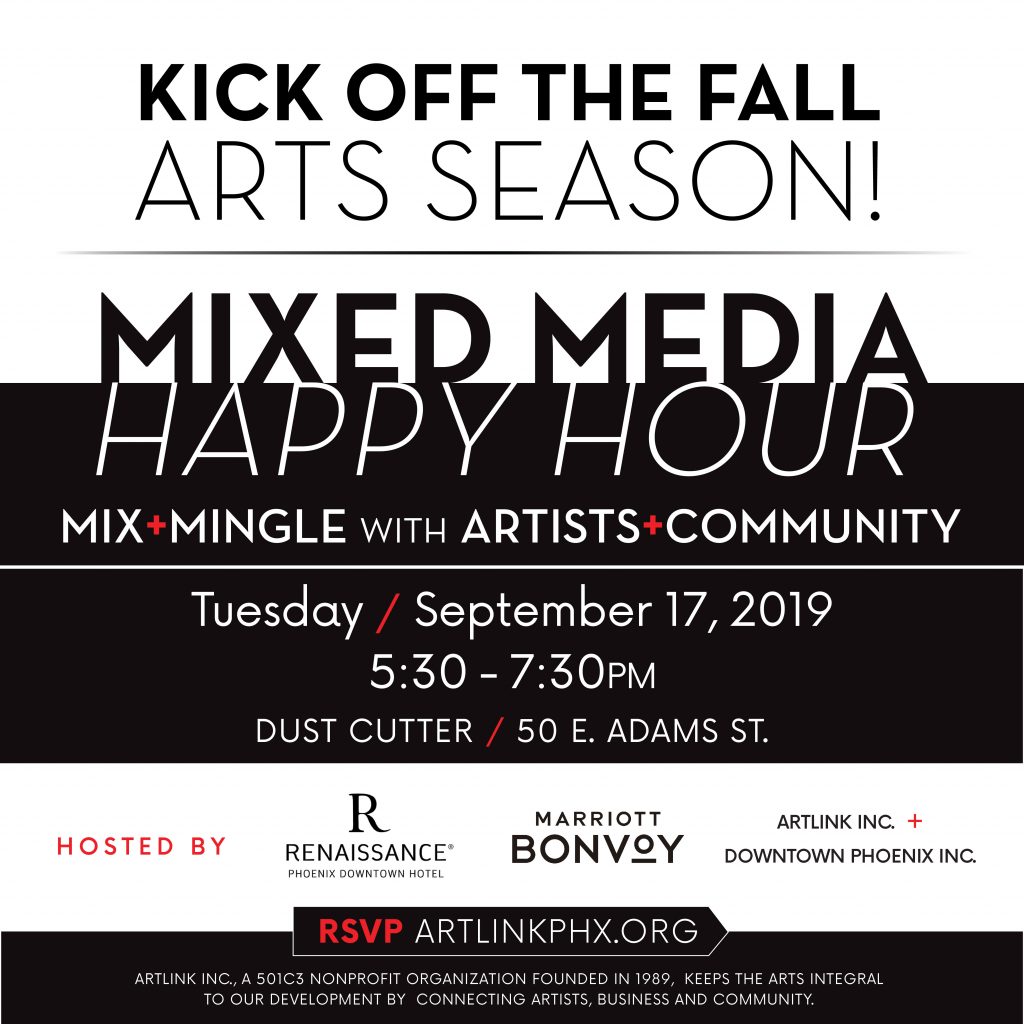 Get ready to Mix, Mingle and kick off the Fall Arts Season!
Join us at Dust Cutter in the Renaissance Phoenix Downtown Hotel to learn about – and share! – what's special about the upcoming season, while enjoying complimentary sips, bites + other drink specials with artists, arts advocates and community.
Plus – you'll be the first to hear the announcement from our hosts and friends from Downtown Phoenix Partnership about downtown's newest mural that will be created on the west side of the hotel! Meet Clyde the artist and see the unveiling of the creative concept that's soon to appear on Central Ave.
You won't want to miss this one!
Mixed Media Happy Hour is hosted by Artlink in partnership with Downtown Phoenix Inc.
Thanks to Marriott Bonvoy for supporting this special celebration of Phoenix's arts and culture community. Find out how you can experience the arts scene and extend your stay here.
When: Tuesday, September 17, 2019
Time: 5:30 to 7:30 p.m. (program at 6:15 p.m.)
Host Venue: Dust Cutter At Renaissance Downtown Phoenix Hotel, 100 N 1st Street, Phoenix 85004
---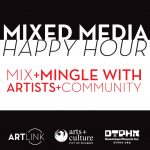 Join us for a kick-off to the 2017-2018 arts season!
Invitation to Phoenix Nonprofit Arts & Culture Organizations:
The Phoenix Office of Arts and Culture has partnered with Artlink in the development of a a centralized arts and culture events calendar. We're offering a hands-on orientation of this new marketing tool powered by Phoenix Urban Guide (PUG). If you are a nonprofit representative working with the City of Phoenix, please RSVP here.
Time for Mixed Media Happy Hour!

We're heading to FOUND:RE Phoenix for an evening of mixing & mingling while enjoying featured bar & bites specials. Artists, art venues, business and community members who support the Phoenix arts scene are all invited! RSVP here.
---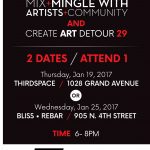 Mix and Create a Detour Together
Two events are scheduled to bring together participating artists and arts businesses to create a bigger and better Detour experience for patrons.
Artlink invites its "Articipants" — area artists, art venues, business and community members who regularly participate in the Phoenix arts scene — to attend one of two happy hour events in January to celebrate and collaborate on ideas for the upcoming Art Detour 29.
Mixed Media Happy Hour Schedule
Jan. 19, 6 to 8 p.m.
"Mixed Media" Happy Hour at ThirdSpace, 1028 N.W. Grand Ave., Phoenix (map)
Click here RSVP to the JAN 19 event at ThirdSpace
Jan. 25, 6 to 8 p.m.
"Mixed Media" Happy Hour at Bliss + ReBar, 905 N. Fourth St., Phoenix (map)
Click here to RSVP to the JAN 25 event at Bliss/ReBAR
---