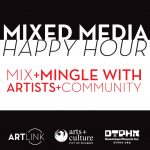 Join us for a kick-off to the 2017-2018 arts season!
Invitation to Phoenix Nonprofit Arts & Culture Organizations:
The Phoenix Office of Arts and Culture has partnered with Artlink in the development of a a centralized arts and culture events calendar. We're offering a hands-on orientation of this new marketing tool powered by Phoenix Urban Guide (PUG). If you are a nonprofit representative working with the City of Phoenix, please RSVP here.
Time for Mixed Media Happy Hour!

We're heading to FOUND:RE Phoenix for an evening of mixing & mingling while enjoying featured bar & bites specials. Artists, art venues, business and community members who support the Phoenix arts scene are all invited! RSVP here.
---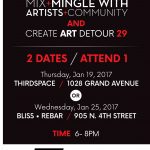 Mix and Create a Detour Together
Two events are scheduled to bring together participating artists and arts businesses to create a bigger and better Detour experience for patrons.
Artlink invites its "Articipants" — area artists, art venues, business and community members who regularly participate in the Phoenix arts scene — to attend one of two happy hour events in January to celebrate and collaborate on ideas for the upcoming Art Detour 29.
Mixed Media Happy Hour Schedule
Jan. 19, 6 to 8 p.m.
"Mixed Media" Happy Hour at ThirdSpace, 1028 N.W. Grand Ave., Phoenix (map)
Click here RSVP to the JAN 19 event at ThirdSpace
Jan. 25, 6 to 8 p.m.
"Mixed Media" Happy Hour at Bliss + ReBar, 905 N. Fourth St., Phoenix (map)
Click here to RSVP to the JAN 25 event at Bliss/ReBAR
---