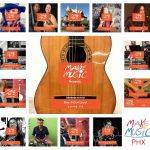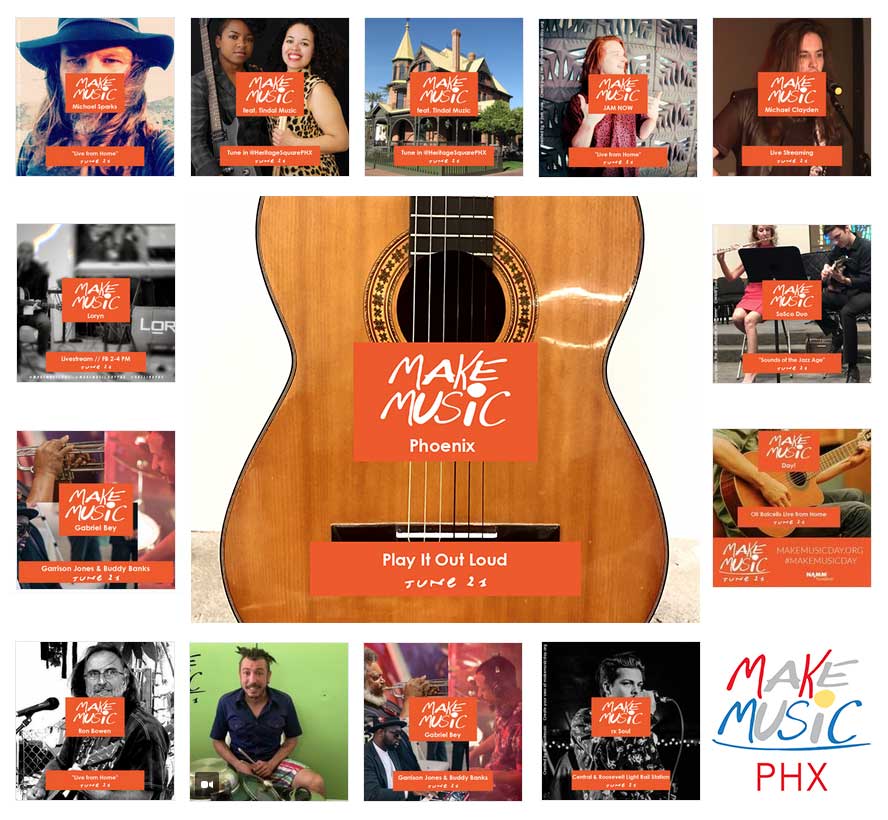 Make Music Day is a free celebration of music around the world – and in PHX! – on June 21.
This isn't your typical music festival! Make Music is open to anyone who wants to participate. Every kind of musician — young and old, amateur and professional, of every musical genre — is invited perform in celebration of our collective love of music!
More than 1,000 cities in 120 countries will take part in Make Music Day 2020, further demonstrating the power of music to unite and uplift people, spread joy and build community amid this challenging and unprecedented time.

Together with our partner Valley Metro, Artlink is excited to feature local musicians along the Artsline and beyond!
Make Music PHX will take place on the Artlink social media channels with a variety of genres and styles of making music.
Follow #makemusicdayPHX  to see and participate with an amazing array of local music talent.
June 21 | The Schedule
Featured performances include: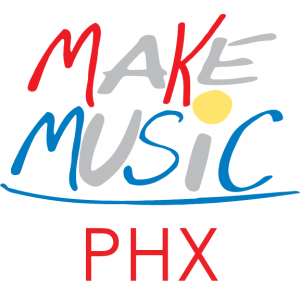 7:00 a.m. – 9:00 a.m.
Live @ Valley Metro Light Rail Stop Roosevelt & Central
Jazz Trio featuring: Gabriel Bey (trumpet), Garrison Jones (keyboard) and Buddy Banks (drums)
Soloist: rx Soul
9:00 a.m. – 9:15 a.m.
Recorded performance
Priscilla Rose Band
10:00 a.m. – 10:30 a.m.
Recorded @ Heritage Square
Tindal Muzic
10:30 a.m. – 11:00 a.m.
Live from Home
JAM Now
11:30 a.m. – 12:00 p.m.
Live from Home
Mike Sparks
12:15 p.m. – 12:45 p.m.
Recorded performance
SoSco Flute & Guitar Duo
1:00 p.m. – 1:40 p.m.
Live streaming a Junk Jam! Grab your Pots and Pans!
Henri Benard
2:00 p.m., 3:00 p.m. & 4:00 p.m.
Recorded Songs from the studio
Lorin Drexler
2:10 p.m.
Live Cross Promotion
Cultural Coalition Az
2:20 p.m. – 2:50 p.m.
Live @ Park Central
Michael Clayden
3:20 p.m. – 3:50 p.m.
Live from Home
DJSpeakerbox 
5:00 p.m. – 5:30 p.m.
Live from Home
Ron Bowen
5:30 p.m. – 6:00 p.m.
Recorded performance
Oliverio Balcells
6:00 p.m. – 6:30 p.m.
Live from Home
Michael Brandon Vela & Erica Erskine
6:30 p.m. – 7:00 p.m.
Surprise performance
Don Harrington
7:00 p.m. – 7:30 p.m.
Recorded performance
Jennifer Buljan
Schedule subject to change. Join us online for any additional surprises!

This Sunday, June 21, Phoenix artist Antoinette Cauley will be participating in a national initiative for #MakeMusicDay called This American Song! Fifty songwriters have each been paired with a person from one of the fifty states to write a song inspired by their personal story. Afterwards, videos of all fifty songs will be available at makemusicday.org @makemusicday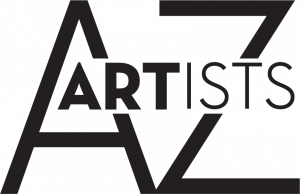 Did you know that you can get to know over 700 visual and performing Arizona artists from the comfort of your own phone or desktop? Visit ArtistsAZ.com and see what the artists are up to in their studios on the Artist Activity page.
---