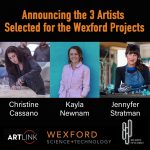 The newest addition to the Phoenix Biomedical Campus opens in 2020
Artlink Inc. is pleased to join Wexford Science & Technology, LLC in the announcement of three artists who have been selected to create art installations for "850 N. 5th St.," the newest addition to Phoenix's Biomedical Campus in downtown Phoenix. Following a statewide open call to artists and a competitive review process, Christine Cassano of Mesa, Kayla Newnam of Phoenix and Jennyfer Stratman of Phoenix will be commissioned to create ceiling and wall installations for the multi-use lobby of Wexford's 227,000 square foot building scheduled to open in October 2020.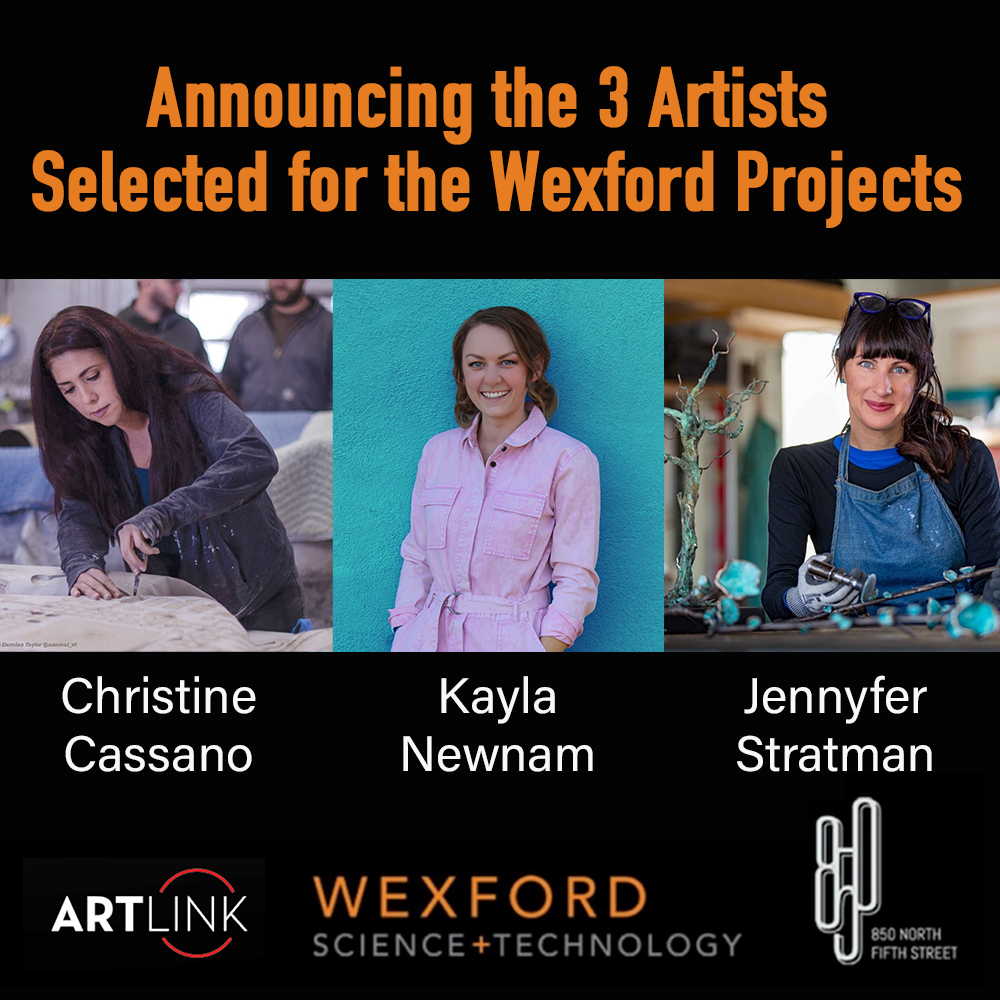 Located on the Phoenix Biomedical Campus adjacent to Arizona State University's Phoenix Campus, in the Evans Churchill neighborhood and the Roosevelt Row Arts District, 850 N. 5th St. is designed by Wexford to function as an innovation hub, combining ASU research, entrepreneurial activity, corporate engagement, workforce development, and integration with the dynamic local arts community.
"Mixing scientific inquiry and artistic expression produces better innovation," said Doug Woodruff, Wexford's senior vice president and western executive. "We intentionally sited the first building of our ASU-anchored Knowledge Community to create a physical connection to Roosevelt Row and the local arts community."
The artists were selected as part of an Artlink-facilitated request for qualifications (RFQ) in which Arizona artists with ties to the downtown Phoenix arts community were invited via an open call to submit their portfolios for review by an eight-member panel of Wexford representatives. From 86 total submissions, five accomplished artists were selected as finalists and presented outstanding proposals: Cassano, Newnam, and Stratman, as well as Jane Goat and Mary Shindell, both of Phoenix. The installations will be installed this summer.
The building's architecture draws inspiration from the saguaro cactus, native to Arizona's Sonoran Desert, which acts as a metaphor for both sustainability and community. The interior program developed by HKS Architects is about an experience of placemaking that celebrates the DNA of life and creativity, setting the stage for artworks that dynamically reflect these themes.
"It was challenging to select only three installations due to the substantial artistic talent in the Phoenix area and the high quality of all of the submissions," said Kyle Jardine, Wexford's development director. "We are excited to make the vision of Christine, Kayla, and Jennyfer an integral part of the life and interaction of 850 N 5th Street, as it opens later this year."
Anchored by Arizona State University, Wexford's 850 N. 5th St. is a 227,000 square-foot research and innovation building designed as the first phase in developing a Knowledge Community that will continue to expand ASU's research footprint in downtown and facilitate the growth of private sector biomedical, life science and health technology companies on the Phoenix Biomedical Campus and across the greater Phoenix region.
The seven-story building will be anchored by ASU and Maricopa Community College's Center for Entrepreneurial Innovation (CEI), and include common event space, a restaurant, and space for bioscience-related private businesses. The top three floors and the restaurant space are currently available for lease. Contact Kyle Jardine at (480) 779-7181.
About Artlink Inc.
Artlink keeps the arts integral to our development by connecting artists, businesses, and the community. Founded as a 501(c)(3) nonprofit organization by artists in 1989, the Artlink name is a guiding principle for the organization as it supports the stakeholders of the arts and culture community, amplifying its collective strength. Visit artlinkphx.org to sign up for the Artlink newsletter or connect socially on Facebook, Twitter, and Instagram.
About Wexford Science & Technology, LLC
Wexford Science & Technology, LLC, is a real estate company exclusively focused on partnering with universities, academic medical centers, and research companies to develop vibrant, mixed-use communities. Wexford's communities are built on a foundation of discovery, innovation, and entrepreneurial activity that creates visible outcomes in the form of substantial economic growth, new and diverse jobs, and community transformation. Wexford targets strategic opportunities with top-tier research universities that are directly on or contiguous to dense, urban campuses. Presently Wexford has developed fifteen Knowledge Communities across the United States. For more information about Wexford, visit www.wexfordscitech.com
---