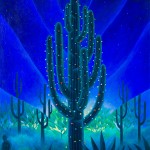 Congratulations to the six artists whose work was selected to be featured on the CitySkate "street gallery" installation that will be on display throughout the holiday season.
Artlink and CityScape Phoenix invited local artists to submit samples of previously completed work to be considered for display on a structure that is a part of CitySkate in downtown Phoenix.
We were thrilled with the response and excited to provide an opportunity for artists to participate in this holiday tradition that draws 200,000 people every year. It was the first year of this collaboration, and we're already looking forward to next year.
The installation will be on display until January 8, 2017.
North Star by Carlos Mendoza
---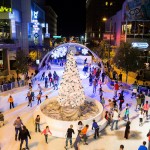 Artlink and CityScape invite local artists to submit samples of previously completed work to be considered for display on a structure that is a part of CitySkate in downtown Phoenix.
A panel will select the top SIX selections. Each winner will receive a $200 prize. Their works will then be reproduced on banner material and displayed on a chiller structure (two 40' banners, three artworks on each) within CitySkate and featured in CityScape promotions.
There is NO SUBMISSION FEE for this call. The deadline to submit is November 7, 2016.
SUBMISSION DETAILS
A variety of contemporary street art styles are welcome for submission. Artists are encouraged to submit works that reflect a holiday theme. This can include images of generosity, gratitude, hope, celebration, or joy.
Individual artists are invited to apply to this call. Please note that by submitting to this call, artist agrees to permit Artlink and CityScape to reproduce the image of their selected work. Limited edition items may be sold for a limited time (selected artists will be notified of details).
Click here more information on Cityskate.
The online submission deadline is November 7, by midnight.
Artists must be residents of Arizona.
Details:
Submit up to three images (three individual work samples).

JPGs or TIFFs, up to 300 dpi. *Please note that a larger high-res image will be requested if selected.
Images of works must be able to be scaled to reproduction size of the banners. We can work with the artist in ensure the sizing is correct.
Include:

Title,
dimensions,
materials used,
year completed

Current resume(s) and primary contact information.
TIMELINE
Application deadline November 7, 2016.
Mural will be installed in mid November.
FAQ
Is there a fee to submit to this CitySkate Call for Artists?
No. In the spirit of the holidays, the typical submission fee of $30 has been waived for this call.
Can I submit to multiple calls promoted by Artlink?
Yes. Once you've set up your artist profile on Submittable.com, you can easily submit for this and future calls. There is NO FEE for artists who have signed up to be an Artlink Articipant. Registration for 2017 Articipants will begin November 1.
Can I submit the same art to multiple calls?
You can, but we encourage you to submit a variety of works and to pay close attention to requirements, deadlines, etc. so that the submitted works remain eligible for selection.
What style of work is CityScape looking for?
A variety of styles are welcome for submission.
How do I decide what works to submit?
We suggest you submit three of your best works which reflect the holiday theme of the call. This can include images of generosity, gratitude, hope, celebration, joy, etc.
For further questions, please email submissions@artlinkphx.org.
About Artlink Inc.
Artlink keeps the arts integral to the development of our city by connecting artists, business and community. Artlink supports a variety of community-based art events, including complimentary Trolley Tours during the monthly First Friday Art Walk, one of the nation's largest self-guided art walks; a pop-up gallery program; the Infusion arts initiative; and the annual Juried Exhibition, Art Detour, and Art d'Core Gala. Artlink is a 501(c)(3) nonprofit organization and is supported by City of Phoenix Office of Arts and Culture, Downtown Phoenix Inc., Arizona Commission on the Arts, Phoenix Art Museum, The Arizona Republic, Dunn Transportation, Roosevelt Row CDC, Warehouse District, Central Arts District and Historic Grand Avenue. Visit artlinkphx.org to sign up for the Artlink newsletter or connect socially on Facebook, Twitter and Instagram.
---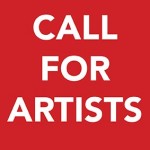 Refresh Exhibition
Length of Show: August 11- September 26, 2014
Submission Deadline: Monday July 28, 2014 at midnight
Location: CityScape, 1 E Washington St, Phoenix, AZ
Artlink Inc. will present refreshing work from local artists in a group exhibition at Cityscape in downtown Phoenix.
Refresh at CityScape will be a tranquil oasis in the middle of a bustling and broiling city. Refresh is an exhibit on the power of water to soothe us as the temperature spikes. This can come in the form of dancing in a summer storm, swimming at a beach or pool, or taking a big swig of an ice cold beverage. We are looking for work inspired by water.
The display space for the event will be open to the public, Artlink board members and volunteers will install the art and handle sales.
Artwork submission guidelines: Artlink will accept 2D work that can be hung on the wall, does not exceed 20lbs. and is no more than 36″w, 48″h, 5″depth.
All accepted work must have wire hardware for hanging. In order for artwork to be considered for display all of the above guidelines must be met and artwork must be ready to hang.
APPLICATION to include:
Email submission to info@artlinkphoenix.org of files in .jpg format, limited to three, with each image labeled with the artist's name and title of art. We recommend submitted images to have a resolution of 72 dpi.
Text file that lists:

Your contact info
Artist name as you would like it to appear on labels
Titles of individual submissions
Dimensions (HxWxD)
Media
Sale price or NFS

A submission fee of $25, unless you have previously signed up as an Artlink Articipant. Process your payment through PayPal here:
Application fees are non-refundable, regardless of acceptance to gallery shows. Every submission is appreciated and will be seriously considered by a jury of experienced arts professionals. Due to limited space, not all artwork will be accepted. Please do not call for results. Artists will be notified by email.
Drop-off Directions: If selected, there is one drop off date and location for artists.
Artists should be available to drop off their work to Sarah (VP of Artlink Board of Directors) on Saturday, August 9th from 10 am to 2 pm at Cityscape (1 E Washington St). Further instructions to follow about drop-off and pick-up for those selected.
Artlink Inc. and Cityscape are not liable for any damage or theft that may occur to any person or property. Artists will be asked to sign a waiver and may insure their own artwork, as desired. Artlink Inc. will facilitate and retain 10% of each sale to cover transaction cost. Please email any questions to info@artlinkphoenix.org. For more information about Cityscape, please visit: cityscapephoenix.com.
---