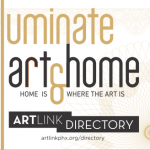 Voucher Program Gives New Downtown Phoenix Residents a Rent Discount for Buying Art 
Partnership between Baron Properties and Artlink to help connect local artists to those moving into iLuminate and Linear Apartment Homes
An "art voucher" program giving residents of new downtown residential properties the opportunity to purchase local art and get a resulting discount on their rent was announced today by Baron Properties and Artlink Inc
Art & Home is a unique art voucher program available to all residents living at Baron Properties' iLuminate and Linear Apartment Homes in the Roosevelt Row Arts District of downtown Phoenix. This voucher program is designed to encourage the support of Phoenix's local art community.
From the earliest stages of planning and development, Baron Properties was intent on honoring the culture that makes the downtown community so diverse. The community's art is woven into the structure of downtown neighborhoods. This program reflects Baron's and Artlink's mutual vision of connecting artists, businesses and the public.New Baron residents will visit the Articipant Directory on artlinkphx.org to find Visual Artists, Galleries, and Art Spaces where they can purchase artwork. Following the purchase from these directory categories, Baron Properties will provide residents with a rent reimbursement. This leasing incentive is available to all new residents of iLuminate and Linear, with an expiration period of sixty days from the date of move in. Art & Home will be accessible for a limited time and the value of these art vouchers may vary based on availability.
In July 2016, Baron and Artlink publicly launched their partnership through the 18th Annual Juried Exhibition competition, and in September presented a first-ever Baron Grand Prize of $5,000 to the first place winner. With nearly 400 guests in attendance and more than 250 works of art submitted—the largest submission in the competition's history—this event proved to be the start of a lasting relationship.
"We look forward to a continued partnership with Artlink. The Juried Exhibition and the Art & Home voucher program are just a few ways we are working to support the local art community," said Liz Schloss, Baron Properties' president of operations. "We hope that our participation will inspire others to get involved."
"Original works of art are a significant addition to any home, and finding just the right piece to fit your taste and space can be a stimulating but daunting process. We wanted to help answer the question of 'Where to begin?' and provide a simple resource that connects new downtown residents to local artists," said Catrina Kahler, Artlink board president. "We appreciate Baron's partnership in this unprecedented program and look forward to introducing their tenants to the arts community."
About Artlink Inc.
Artlink Inc. is a 501(c)(3) nonprofit organization dedicated to linking artists, business and the public to better understand, appreciate and support a thriving arts community. Artlink supports a variety of community-based art events, including complimentary Trolley Tours during the monthly First Friday Art Walk, one of the nation's largest self-guided art walks; a pop-up gallery program; the Infusion arts initiative; and the annual Juried Exhibition, Art Detour, and Art d'Core Gala. Artlink is supported by City of Phoenix Office of Arts and Culture, Downtown Phoenix Inc., Arizona Commission on the Arts, Phoenix Art Museum, The Arizona Republic, Dunn Transportation, The Torosian Foundation, David Wright House, BJ Communications, Heard Museum, Phoenix Convention Center, Valley Metro, Downtown Voices Coalition, IVIO Web Development, Urban Affair, Roosevelt Row CDC, Warehouse District, Central Arts District and Historic Grand Avenue. Interested arts patrons, volunteers, sponsors and advocates are encouraged to subscribe to the Artlink newsletter to stay up-to-date on artist opportunities, community activities, and more. Visit artlinkphx.org.
About Baron Properties
Baron Properties specializes in multifamily housing, with corporate headquarters located in Colorado, and a regional office based in Arizona. Driven by professionalism, extensive property knowledge, and operational expertise, we provide an elevated experience of extraordinary service. Their Phoenix developments, the iluminate and Linear apartment communities, located at 290 and 295 E. Roosevelt St. respectively, will bring 215 new apartment homes to Phoenix's Roosevelt Row Arts District. The properties are scheduled to open in Fall 2016. Visit baronproperties.com for more information.
---
---
---
---
---
---