DTPHX Giving Meter | Call To Artists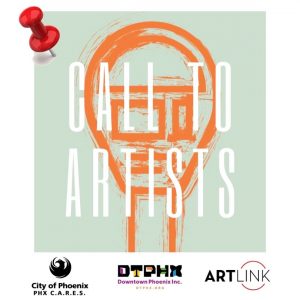 The following call for artists is presented by City of Phoenix and Downtown Phoenix Partnership ("Program Sponsors") with support provided by Artlink Inc. The deadline to submit is Wednesday, June 5, 2019 by 5:00 p.m. (local Arizona time).
BACKGROUND AND OVERVIEW
The Program Sponsors are inviting artists engage in a program that positively contributes to productive conversations about homelessness.
Project: Giving Meter Program
Locations: Four within downtown Phoenix
Request: An original work painted on a parking meter that inspires giving.
Budget: $300 Honorarium
Overview: The "Giving Meter" Program piloted by City of Phoenix and Downtown Phoenix Partnership will be launched in early July 2019. These program sponsors, with support from Artlink Inc., invite artists to engage in the program through a thoughtful contribution of time and creativity.
Four "Giving Meters" will be placed in high-pedestrian areas within the 90-square-block area of the Downtown Phoenix Business Improvement District, also known as the Downtown Core. This area represents Arizona's business, entertainment and dining hub, and is a growing urban neighborhood.
Artists are asked to paint actual meters that have been refitted to accept both coin and card donations. The goal is to feature a creative design on the meters to bring attention to the program and encourage the public to give in support of their less fortunate neighbors. Donations will be used to fund PHX C.A.R.E.S., a City of Phoenix program that assists the homeless community. The funds will be used to purchase essential supplies.
CAPABILITIES
The goal of this call is to work with artists who are passionate about this societal challenge and who are willing to contribute their time to bring attention to a simple way the public can provide support. The program helps bring about change through the giving of change.
As part of this application process, instead of a letter of intent, artists are asked to include a simple statement about why they want to participate in this giving program.
Artists whose aesthetics are bright, colorful, and energetic are encouraged to apply.
Program details including meter measurements can be found here.
SUBMISSION DETAILS
Eligibility:
This opportunity is open to artists currently residing in Phoenix, Arizona.
Artists must be registered as an Artlink Articipant. Find the registration form on artlinkphx.org.
Project Honoraria/Artist Rights:
Four artworks will be selected, with each artist paid a $300 honorarium. There are no additional out-of-pocket expenses expected from the selected artists. The meters will be provided.
Artist will provide licensing and reproduction rights, and permit photography of artworks, including use in promotional materials. All reasonable effort will be made to credit the artist in promotions and when communicating with media.
Timeline:*
Call Issued: Thursday, May 23, 2019
Submissions Due: Wednesday, June 6, 2019 by 5:00 p.m. (local AZ time)
Finalists Notified: By end of day Friday, June 8, 2019
Artists pick up meters to paint: Beginning Monday, June 10
Painted meters delivered by: Thursday, June 27
*Timeline subject to change.
Submission Process:
 You must be registered as an Artlink Articipant to proceed.
Step 1: Log in to your PUG Dashboard and check that your profile contains your current contact information — email and telephone.
Step 2: Upload images of your current work.
Step 3: *IMPORTANT* Add "ARTLINK CALL" to your list of profile tags (must be exact spelling and spacing). This is integral to making your profile visible to Selection Call panelists via ArtistsAZ.com.
Step 4 (Final Step): Complete this VERIFICATION FORM to finalize your submission.
You're done! Questions? Email us at info@artlinkphx.org