This Expanded time frame allows for a variety of ways to have an art experience during COVID-19
Artlink, a 501(c)(3) nonprofit organization with the mission of connecting artists, businesses and the community, announces that Art Detour will be returning for its 33rd year as a 33-day celebration of the arts and culture community. The event will run from Feb. 27 to March 31, 2021, giving art patrons, collectors and art lovers a broader range of ways in which to engage with Arizona artists.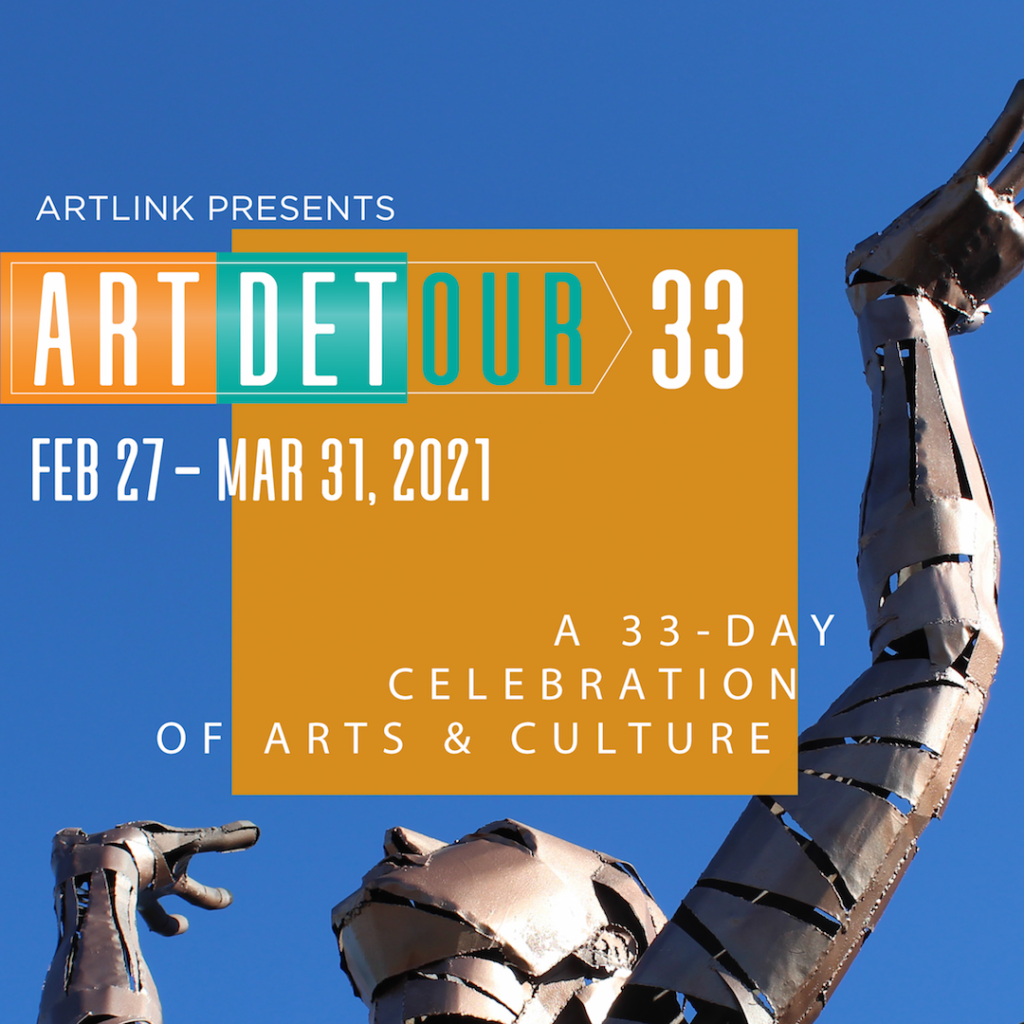 Art Detour is Phoenix's original art walk event, launched by artists in Downtown Phoenix in 1989. It grew into a PHX Art Week as an all-inclusive celebration of art, creativity and culture that features studio tours and exhibitions throughout the valley. In light of the ongoing COVID-19 restrictions on events and gatherings, Artlink is expanding the duration and the geographical boundaries of this spring celebration of creativity in all of its forms in order to increase opportunities for both in-person and online art experiences, while taking into account the need to maintain social distancing.
The new format will feature a variety of art forms, different activities and diverse communities that showcase the very best that Arizona artists have to offer during this period of economic recovery. Highlights include the 21st Annual Juried Exhibition, Governor's Arts Awards, Creative City Symposium, the ART+FORM project at Park Central, On Central Fashion + Art, IN FLUX public art installations, and many more special exhibitions and activities hosted by arts and culture destinations.
"As advocates, Artlink remains committed to supporting artists and art stakeholders who continue to operate within public health and safety guidelines. A greater sense of flexibility is required as we navigate the ever-changing landscape related to growing the arts and culture community." said Catrina Kahler, president and chief executive officer of Artlink. "The arts sector has struggled but endured since March 2020, and now this 33-year tradition has an opportunity to adapt to the uncertainty, while supporting a creative community that significantly contributes to our region's economy."
Art Detour 33 is an opportunity to highlight a spectrum of art forms and integrated themes that include the visual arts, performing arts, culinary arts, fashion design, public art and more. Artlink invites artists, venues, businesses and organizations to register as an Artlink Articipant and join this amazing 33-day arts and culture celebration For information on how to get involved, visit artdetour.com.
Art Detour is made possible through the support and participation of Artlink partners Arizona Arts Commission, City of Phoenix, Downtown Phoenix Inc., Park Central, Valley Metro, Gould Evans, FOUND:RE Phoenix Hotel, IN FLUX, Arizona Citizens for the Arts, Phoenix Community Alliance, The Garment League, Roosevelt Row, Historic Grand Avenue, Phoenix Warehouse District, knoodle, Ivio Agency, LocalBuzz, Website Butlers, CLYint, Karvonen Design, Artlink Articipants and volunteers.
Artlink will formally announce the wide range of programming and a full list of "Articipants" closer to the kickoff of Art Detour 33.