One of Arizona's largest art exhibitions opens February 20, 2021, at FOUND:RE Phoenix Hotel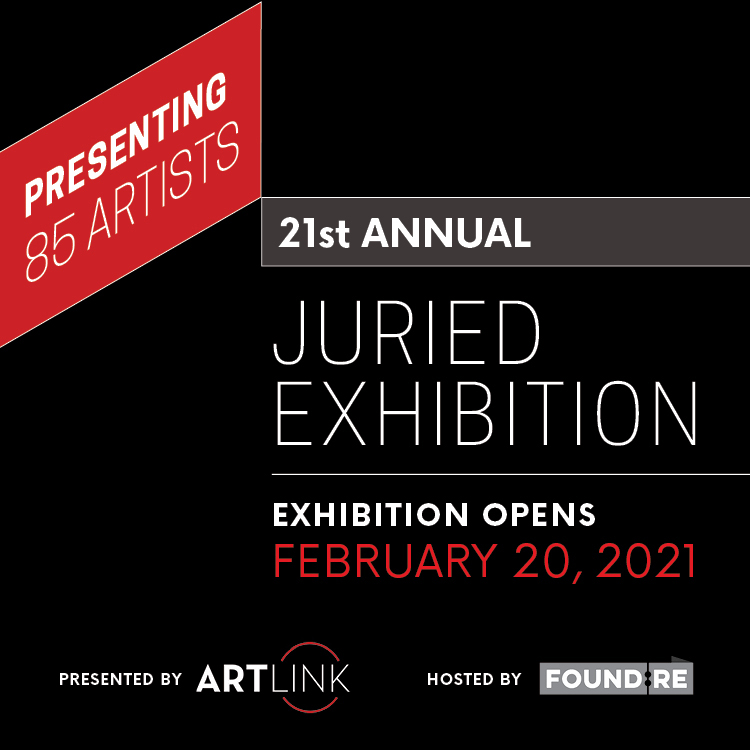 Artlink Inc. is pleased to present 85 exceptional works in the 21st Annual Artlink Juried Exhibition. This multi-media exhibit has been a premier showcase for emerging and established artists throughout the state and is one of the largest group exhibitions held in Arizona. This year it will take place at FOUND:RE Phoenix Hotel in downtown Phoenix as a four-month long exhibition in order to allow for safe visitation in line with COVID-19 safety restrictions. The exhibition opens to the public on February 20 and runs through June 13, 2021.
For the 21st year celebration of the Artlink Juried Exhibition, a panel of prestigious jurors from the Arizona arts community has selected 85 inspired works from over 725 that were submitted for consideration. This dedicated panel of jurors selected the largest multi-media showcase ever organized by Artlink: Julie Akerly, Dancer/Choreographer and Co-Founder of nueBOX; Antoinette Cauley, Artist (Juried first prize winner in 2019); Tiffany Fairall, Chief Curator of Mesa Contemporary Arts Museum, Rafael Navarro, Artist; Mark Pomilio, Artist and Professor of Painting and Drawing at ASU.
Three artists will receive cash awards as part of the juried process, which is funded by Artlink. The first place award winner will receive $5,000, the runner-up will receive $1,500, and the second runner-up will receive $750. Winners will be announced on Saturday, February 27, as part of the opening day of Artlink's Art Detour 33.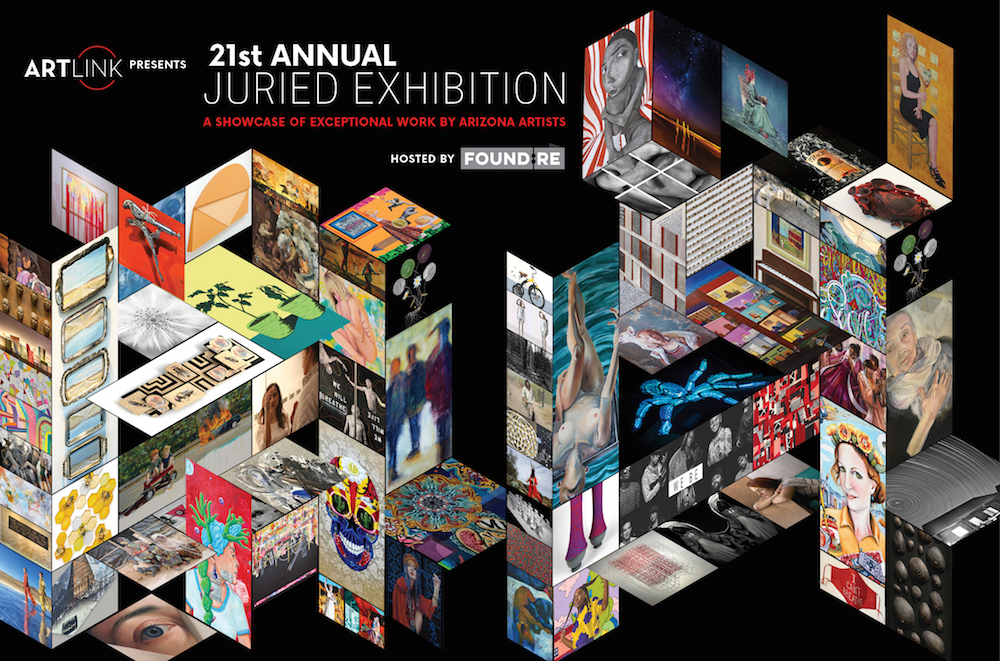 Congratulations to the exhibiting artists: Mia B. Adams, Amanda Adkins, Michael Afsa, Jared Aubel, Lora Barnhiser, Sara Reinstein Becker, Laura Spalding Best, Brian Boner, Henry Bosak, Bryson Bost, Anthony J. Braun, Lee Brown, Penny Cagney, Diana Calderon, Jennifer Caldwell & Jason Chakravarty, Lady Caress, Angel Castro, Craig Cheply, Charmagne Vasquez Coe, Joel Coplin, Barbara Kemp Cowlin, Victoria Currens, Bill Dambrova, Heidi Dauphin, Janet Talmadge Davids, Jorge De La Torre, Jeff Del Nero, Katherine Del Rosario, Charith Denson, Michael Denson, Miachelle DePiano, Carlos Encinas, Michael Farmer, Edgar Fernandez, Fausto Fernandez, Jimmy Fike, Keely Finucane, Jill Friedberg, Slade Graves, Isabel Han, Chelsea Hickok, Daniel Hoglund, Robert Jackson, Teressa Lynn Jackson, Christopher Jagmin, Armida Kielty, Min Kyu Kim, Suzanne Klotz, Aryana B. Londir, Josh Louchheim, Vivienne Lux, Amy Sansbury Manning, Kris Manzanares, Kathryn Maxwell, Rocco P. Menaguale, Abbey Messmer, Mary Meyer, Jamilla Naji, John Randall Nelson, Marnelle North, Elissa Nowacki, Sadera Nye, Daniel Prendergast, Gustavo Ramos, Paulina Ramos, Emily E. Ritter, Patricia Sannit, Lacey Shelton, Katharine Leigh Simpson, Snood City, George Strasburger, Marilyn Frances Szabo, William Touhey, John Tuomisto-Bell, Fred Ullrich, Zach Valent, Megan Vanbuskirk, Chris Vena, Shoreigh Williams, Larry Willis, Danielle Wood, Reid Woodward, John David Yanke, YBtheArtTrapper, and Bobby Zokaites.
Due to the amazing response by artists this year, four additional group exhibitions will added to the program line-up at FOUND:RE Contemporary art gallery. The artists in these "Contemporary Voices" exhibitions will be announced each month.
This Artlink signature event is taking place during the ongoing Coronavirus pandemic thanks to the partnership of FOUND:RE Phoenix Hotel. This venue is open to the public on a 24/7 basis, which allows for social distancing and gives art lovers the opportunity to see the exhibition at their leisure. The exhibition will be presented as part of FOUND:RE Contemporary art program's regular schedule of rotating exhibitions as headed by curator Audrey Galat. The works will also be shown online at foundrecontemporary.com. The majority of works are available for purchase.
Artlink is especially grateful for the financial support of Arizona Commission on the Arts and the City of Phoenix Office of Arts and Culture that supports the funding of the Juried Exhibition as well as Artlink's year-round programs and initiatives.
About Artlink Inc.: Artlink keeps the arts integral to our development by connecting artists, businesses, and the community. Founded as a 501(c)(3) nonprofit organization by artists in 1989, the Artlink name is a guiding principle for the organization as it supports the stakeholders of the arts and culture community, amplifying its collective strength. Visit artlinkphx.org to sign up for the Artlink newsletter or connect socially on Facebook, Twitter and Instagram.
About FOUND:RE Phoenix Hotel: FOUND:RE Phoenix is a 104-room hotel with details, designs, public spaces and amenities inspired by contemporary art, culture, fashion and music. The hotel enhances the city's arts offerings with an impressive collection of contemporary art and creative guest programming woven into the entire guest experience for visitors and locals to enjoy. The hotel has an on-site restaurant, MATCH Market & Bar and art gallery, FOUND:RE Contemporary. Visit foundrehotels.com, matchphx.com and foundrecontemporary.com.