First Fridays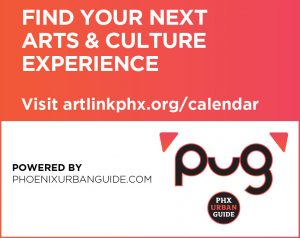 Enjoy the culture and spirit of downtown Phoenix as you mingle with thousands of other residents and visitors during the First Fridays Art Walk.
Explore the city by using the map below or our Events Calendar and tour art galleries, cultural venues, and more from 6:00 to 10:00 p.m. on the First Friday of every month.
Missed First Friday? Mark your calendar for Third Fridays from 6 p.m. to 10 p.m.
Want to plan your route ahead of time? Sign up for Artlink's newsletter to get a first look at upcoming art happenings, exhibitions and more. [Note: each art space has their own hours.]
First Friday Trolley Tour + Hub Locations
See Maps Below
Artlink hosts a complimentary trolley tour every First Friday, making it even easier to access Phoenix's arts districts and destinations. We work with community partners to provide "Park-and-Ride Hubs," where parking is readily available, and many of the tour stops are adjacent to Valley Metro Rail stations.
There are three Park-and-Ride Hub Stops:
Some tips:
Tour Schedule: Trolleys run from 6:00 p.m. until 10:00 p.m., stopping at each of the hubs in approximately 25-minute intervals. THE LAST CIRCUIT IS AT 9:30 p.m., so make sure you're on board and heading back to your car or your light rail station by that time.
Park and Ride Hubs: Park at any one of these locations and catch the complimentary Artlink First Friday trolley that makes it easy to go from one arts area to another.
Maps: The maps pictured below are printed courtesy of Downtown Phoenix Inc. and available at each Hub Stop and on the trolleys.
Food & Drink: Find refreshment at restaurants and bars who support the arts community. See the list in the map below and in our Directory.
Find the map on your phone!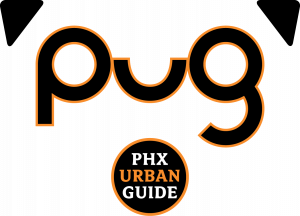 There is a new way to find First and Third Friday exhibitions and activities. We invite you to explore a new online map: Phoenix Urban Guide (aka "PUG").
Our online First Friday map is "PUG-powered" helping you find cultural destinations, dining, retail and more.
More First Friday Tips
1.  Want to go to Roosevelt Row?
Consider taking light rail to the Roosevelt and Central station and walking from there.
Park at the Connector Hub at Ten-O-One and walk.
Ride the Blue or Orange trolley route from any of the pick up locations
2.  Want to go to Grand Avenue?
Park at the Artlink Trolley Hub at the corner of 15th and Grand Aves.
Park at the Connector Hub at Ten-O-One N. Central and take the Blue trolley route.
3.  Make the most of Valley Metro Rail!
The next best thing to the trolley ride is the Valley Metro Rail line that connects you with Phoenix Art Museum, the Roosevelt/Central stop, and CityScape and Heritage and Science Park. You can even call or text to find the time of the next arrival (PDF link here). (THERE IS A FEE to ride light rail.)
Our goal with the route and the trolley hubs is to make it easier for downtown visitors to discover the full spectrum of arts experiences available on First Friday.  With this system, you can ride light rail, or drive and park at a number of locations and have ready access to a complimentary trolley to get you everywhere you want to go.
Discover all that First Fridays in downtown Phoenix has to offer!
Exhibiting
We encourage artists looking to exhibit to visit galleries and art spaces to identify which may be most appropriate for your work. Contact the curator directly about their submission policy.
Vending
For information about First Friday vending opportunities, check out Roosevelt Row A.R.T.S. Market.